EUROPE – Alcoholic beverages giant Bacardi and its much smaller rival Manchester Distillery have introduced new products to expand their respective alcoholic beverage portfolios.
Bacardi which is one of the one of the largest privately held, family-owned spirits company in the world has introduced three new ready-to-drink (RTD) offerings, expanding its Martini portfolio.
These include Martini Fiero & Tonic and Bacardi, Martini Non-Alcoholic Vibrante & Tonic, and Martini Non-Alcoholic Floreale & Tonic.
Martini Fiero & Tonic is described as a "perfectly balanced" drink featuring vibrant citrus notes of Murcia orange peel, combined with the bitterness and herbal aromatics of artemisia, alongside many other botanicals.
Martini Non-Alcoholic Vibrante & Tonic, on the other hand, is a fruity offering featuring a blend of natural botanicals, including Italian bergamot.
The last product in the range, Martini Non-Alcoholic Floreale & Tonic, is said to offer a refreshing "floral tasting experience" and includes a range of botanicals.
Victoria Morris, vice president of Martini said the launch was in response to the increased demand for on-the-go drinks.
"We know outdoor socialising will be key this spring and these three new RTDs are an easy way to enjoy a delicious drink without foregoing quality for the sake of convenience," Morris said.
Manchester Distillers debuts its first ever rum
Not to be left behind, UK-based Spirit of Manchester Distillery has also expanded its alcohol portfolio with the introduction of its first rum, One-Eyed Rebel.
The maker of popular Manchester Gin says that the new drink, with a 40% ABV is a spiced botanical rum, created with fiery ginger spice and cassia.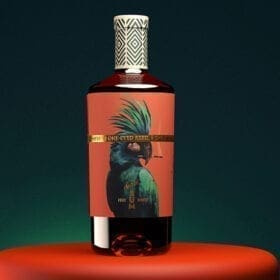 The company additionally noted that One-Eyed Rebel is a "bold spiced rum rebelling against the average supermarket spirits with a quality flavour and stand-out design".
Seb Heeley, the master distiller at Spirit of Manchester Distillery, said: "We've always loved rum; it's our second favourite spirit and we've been working non-stop for the last year to use everything we've learnt in gin distillation to create the perfect spiced rum."
One-Eyed Rebel will be available to purchase direct from the Spirit of Manchester Distillery and throughout retailers nationwide, the company said.

Founded in 2019 by gin enthusiasts Jen and Seb, Manchester distillery is a state-of-the-art distillery that has grown in under three years and today boasts of a capacity to produce a million spirit bottles.
Today, the company prides itself in its modest spirits portfolio comprised of over 8 products including 7 different types of Gin; One Vodka; and its latest addition- a gin.
Liked this article? Subscribe to Food Business Africa News, our regular email newsletters with the latest news insights from Africa and the World's food and agro industry. SUBSCRIBE HERELinkedInFacebookTwitterWhatsAppEmailCopy LinkShare