GLOBAL – #BeverageGoodFriday this week features new alcohol beverage launches from Fever-Tree, Black Tower, Boston Beers, Angry Orchard, and Rancho La Gloria.
Fever-Tree compliments whisky and rum drinks with distillers Cola
Fever-Tree has introduced Distillers Cola in Australia: a mixer made of Caribbean kola nuts, Tahitian Limes, and a selection of distilled botanicals and spices.
Where leading cola brands use their strong flavor profiles to mask the flavor of spirits, Distillers Cola, as highlighted by the company, has been designed to complement and elevate the flavor of whiskies from the finest distilleries.
The brand owner added that the new offering complements rather than hides the unique flavor profiles that whisky and rum have been patiently waiting for in a premium cola.
Fever-Tree Distillers Cola will be available at the end of August in 4 x 200mL packs from Dan Murphy's nationally for an RRP of US$9.49.
Black Tower launches new premium Club Edition drinks
German wine brand Black Tower has launched its new premium Club Edition range in the UK, which is 100% vegan.
The newly-crafted wines will be presented in a bespoke cut-glass bottle, to elicit the spirit of premiumization that has become a trend in the wine sector.
The range comes in an off-dry, German Riesling, as well as a Provence style, pale Pinot Noir Rosé.
The wines will initially launch into Wholesale Cash & Carry Impulse and Online channels and are available exclusively through North South Wines for a suggested retail price of US$10 for a 750ml bottle.
Boston Beers introduces Twisted Tea in whiskey format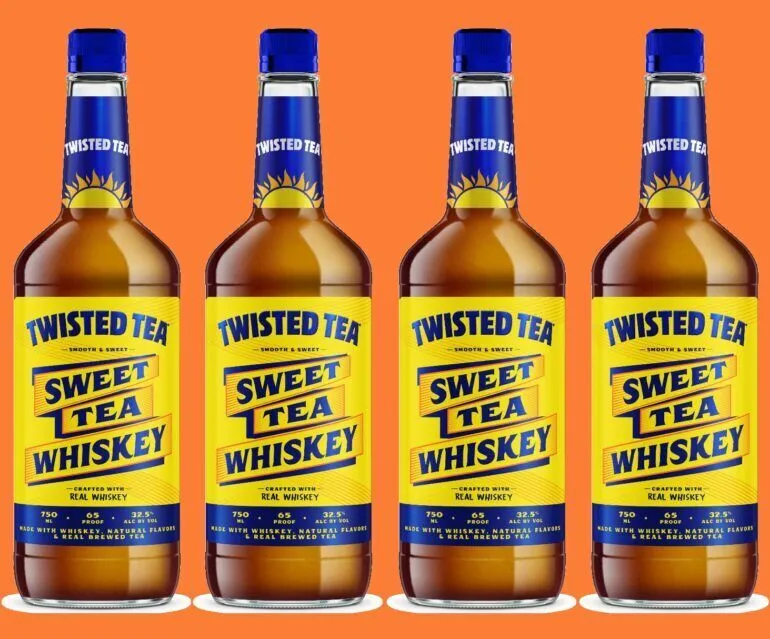 Boston Beer has expanded Twisted Tea into the whiskey space with the introduction of Twisted Tea Sweet Tea Whiskey through its partnership with Beam Suntory.
The Twisted Tea Sweet Tea Whiskey has an ABV of 32.5% ABV / 65 proof and will be available in Massachusetts, Rhode Island, Ohio, Missouri, and Texas, along with military outlets.
The new offering is said to take the great taste of Twisted Tea Hard Iced Tea and reimagine it as a whiskey to deliver on the bold and unexpected experiences consumers are looking for.
The product is made with whiskey, natural flavors & real brewed tea to deliver a bold taste.
The company said the new whiskey drink is available in 50ml, 750ml, and 1-liter bottles and can be consumed on its own or added to a cocktail.
The Twisted Tea Sweet Tea Whiskey can be purchased for a retail price of US$7.99 at the company's website.
New Dark Cherry Apple with higher ABV from Angry Orchard
US-based cider maker Angry Orchard has launched Hardcore Dark Cherry Apple with an 8% ABV, to cater to consumers looking for beverages with higher ABV options.
The Angry Orchard Hardcore Dark Cherry Apple Imperial Hard Cider is made with traditional cider apples and blended with dark cherry juice from concentrate, making for a "balance of crisp apple and tart cherry sweetness".
Hardcore Dark Cherry Apple is available in six-pack 12oz cans across the US for a retail price of US$13.
Patco Brands launched in two premium flavored infused tequilas
Patco Brands-owned Rancho La Gloria has expanded its alcoholic beverage portfolio with the launch of premium flavored infused tequilas.
The new spirit offerings are available in two variants, Jalapeño Lime and Pink Lemonade, that are crafted from 100% Blue Weber Agave, which is then infused and bottled at 35% ABV.
The Pink Lemonade infused tequila features notes of "lemon zest and sweet Meyer lemon".
According to the brand, the lemon notes are heightened by "hints of ripe berry and lemon blossom" and finished with "layers of clean agave and bright citrus".
Meanwhile, Jalapeño Lime infused tequila contains freshly sliced jalapeño balanced by "juicy key lime and zesty lime peel" alongside notes of "roasted agave and the perfect amount of heat".
Rancho La Gloria infused tequilas can now be found at retailers throughout the US, for an RRP of US$29.99 per 750ml bottle.
Both flavors will initially be available in 12 states in the US, with further rollout expected this year.
Liked this article? Subscribe to Food Business Africa News, our regular email newsletters with the latest news insights from Africa and the World's food and agro industry. SUBSCRIBE HERE