The cashew nut industry in Tanzania, one of the top three producers in the World, is at a crossroads. Increasing local production and rising international demand have failed to pull up farmer prices, leading to the Government of Tanzania intervening in the buying and marketing of the produce. What are the opportunities, trends and challenges in the country's top foreign exchange earner?
Cashew nut production in Tanzania is growing aggressively, according to its Cashew Nut Board of Tanzania (CBT), with significant opportunities for investors along the value chain.
Cashews are grown in southern Tanzania, mainly in Mtwara, Lindi, Ruvuma, and Pwani regions, with a total planted area of about 695,683 hectares. Cashew nut is the lead cash crop export in the country followed by tea, coffee and sisal.
According to data from the statistics bureau, cashew nut exports rose to US$541.77 million in 2017 from US$270.6 million in 2016, surpassing all of Tanzania's cash crops, including coffee and tobacco. Cashew nut exports reached over 320,000 tonnes in 2017, against 169,200 tonnes in 2016. However, the growth in exports shrunk to US$196.5 million in 2018.
Tanzania has seen an unprecedented rise in cashew nut production, rising to be the top three world producer in less than 10 years. In 2017/2018, the country's raw cashew nut production reached 387,936 metric tons (MT), from a low of 75, 387 MT in 2010, more than quadrupling its figures.
With an additional of over 450,000 hectares of land in the Lindi, Mtwara, Pwani and Ruvuma regions designated either as industrial parks (green fields) or land for new cashew plantations/farming, this number is set to increase in the coming years.
Nearly 90% of Tanzania's cashew nut exports remain unprocessed and is mainly exports to India – and more recently Vietnam – that have high processing capacities, owing to the country's low processing capacity.
The processed cashew nuts are then exported to large markets like the US and Europe, where they are used in snacks and food products. 
Locally, there are estimated 29 large and small-scale cashew processors (brownfields) in Tanzania that are seeking joint ventures to expand their businesses.
Tanzania had two operating factories that processed most of the crop pre-independence. A company called Oltremare ran these factories; a formidable cashew equipment manufacturer from Italy and an influential figure in the shifting global cashew economy.
The Vietnamese government actually commissioned a study of Oltremare's machines when developing its own cashew industry. 
Vietnam now produces some of the best cashew processing equipment and is the largest cashew processor in the world, with a processing capacity of over 1.2 million tones.
They have successfully ridden the wave of growing cashew production in Africa, with annual imports of 1 million MT of raw cashew nuts from Africa.
In Africa, the Ivory Coast is leading the way with game-changing policy to attract investment in the processing sector; they are also the largest cashew producer in Africa.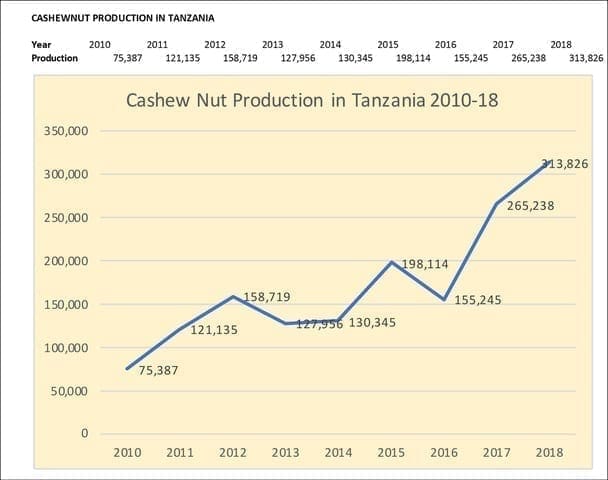 Government intervenes 
However, several controversies affect the cashews sector, especially in relation to the 2018 harvest when Tanzania's President John Magufuli intervened in trying to sustain the crop's collapsing price.
The President set the price at a minimum buying price of TZS 3,000 (US$ 1.30) a kilo in late October 2018, up from the TZS 1,550 (US$ 0.67) recommended by the CBT.
While traders had paid up to TZS 4,000 (US$ 1.74) a kilo for the 2017 crop, in 2018 they were willing to pay no more than TZS 1,700 (US$ 0.74) a kilo of the nuts. 
The President further intervened in November 2018 directing that the GoT would purchase all cashew nuts from farmers at TZS 3,300 (US$ 1.43) per kilo, through the Tanzania Agricultural Development Bank (TADB).
Although the Government continues to pay the farmers the produce collected from farmers across the country, uncertainty continues to hang around the future prospects of the cashew nut industry in the country. Tanzania reckons that local processing will help secure a ready market for the nuts.
The Tanzania Investment Centre (TIC) says the Government is seeking to establish cashew nut processing projects and industrial parks mainly in Lindi and Mtwara regions.
The USAid Hub has supported TIC in drafting a strategy for cashew nut production and processing mainly in Lindi, Mtwara, Tunduru and Pwani.
A total of 538,993 hectares of land has been set aside by the government in these regions for agricultural expansion and industrial development as it also seeks investors to set up industrial parks and develop cashew nut processing industrial zones. 
The Government of Tanzania (GoT) is actively seeking investors in cashew nuts processing and has recently produced a study that identifies investment opportunities in cashew nut growing and processing in the country.  
Liked this article? Subscribe to Food Business Africa News, our regular email newsletters with the latest news insights from Africa and the World's food and agro industry. SUBSCRIBE HERE