GLOBAL – The #Dairy Innovation Monday section this week features new interesting additions from Aimia Foods, Painterland Farms, Bolder Foods, Nestlé, and RDCL Superfoods.
Aimia Foods launches new range of Shmoo milkshake powders
Food and drink distributor Aimia Foods has launched a new range of Shmoo milkshake powders that have been specially designed for vending machines.
The Shmoo vending powders, available in four flavors, vanilla, chocolate, strawberry, and banana, feature a formula that transforms into a shake when processed through a cold (or chilled) vending machine.
The company explains that when mixed through a cold/chilled vending machine, Shmoo vending powders share the same creamy texture that blended Shmoo shakes are renowned for.
With just the addition of water therefore the vending machine virtually takes care of the entire Shmoo shake-making process automatically – and the customer can enjoy their favorite Shmoo shake simply by pressing the button/screen of the machine.
Painterland Farms introduces Organic Skyr Yogurt
Painterland Farms, a certified Woman-owned business, has introduced its Icelandic-style organic yogurt that has adopted the name Painterland Sisters Organic Skyr Yogurt.
The Icelandic-style organic yogurt offers a thicker, creamier Icelandic-style organic yogurt that's lactose-free, rich in probiotics, and high in protein and calcium.
The company said the yogurt is made from organic whole milk and sweetened naturally using fruits and cane sugar.
The kosher product is available in five flavors: Plain, Blueberry Lemon, Strawberry, Vanilla Bean, and Meadow Berry.
A 5.3-ounce single-serving cup of any skyr flavor retails for a suggested US$2.99, all across the US retail stores.
Mary's Gone Crackers introduces vegan line
US organic cracker brand, Mary's Gone Crackers, has expanded its product line with the introduction of new plant-based cheese crackers.
Mary's Gone Cheezee is not only said to deliver the "creamy, mild cheddar appeal, but also a healthy addition to snack rotation.
The crackers will be available in two flavors: Plant-Based Cheddar and Plant-Based Cheese & Herb, which contains hints of rosemary, thyme, and oregano.
The business said these snacks are perfect for consumers that may be lactose intolerant, allowing them to enjoy the flavor of cheese without the use of any real dairy products.
In addition, all of Mary's Gone Crackers' offerings are made in their state-of-the-art facility, USDA Organic, non-GMO Project Verified.
The vegan alternative cheese-flavored crackers will be available at Sprouts stores next month.
Bolder Foods debuts Chizou cheese
Belgium's Bolder Foods has debuted its plant-based cheese alternative, Chizou, at 140 Delhaize stores across the country for US$4.00
Made from locally-sourced cauliflower and chickpea protein, the company revealed that the "deliciously creamy" cheese is sold grated in three varieties — Pasta, Pizza, and Tex Mex.
Bolder Foods added that it chose cauliflower as a key ingredient because it is "naturally nutritious, a melting masterpiece, and the perfect plant for absorbing our delicious natural flavors".
Nestlé's plant-based version of KitKat to be on shelves soon
Swiss food giant Nestlé is set to launch KitKat V, a plant-based version of one of the world's most popular chocolate bars, from Friday with a rollout planned across 15 European countries including the UK.
Unlike the classic KitKat, the vegan version uses a rice-based formula as a milk substitute and is likely to cost more than the regular version.
This is because it's more expensive to produce, due to pricier ingredients and the need for stringent cleaning measures on production lines, Nestlé said.
During Nestlé's trial last year, KitKat V was sold at around 90 pence (US$1.06) in some shops, compared with 60 pence or 70 pence for the non-vegan version, according to Gabler.
RDCL Superfoods' plant-based vitamin-packed chocolate milk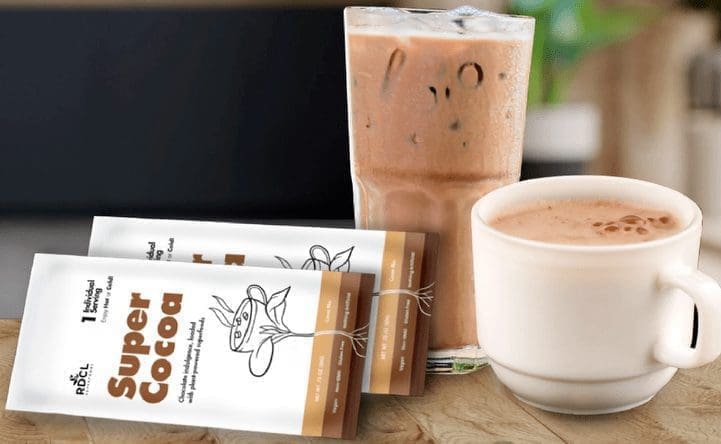 Los Angeles-based RDCL Superfoods has unveiled its new Super Cocoa that is designed for kids in all of the US states who love chocolate milk.
The plant-based vitamin-packed line is designed to give ordinary drinks new "superpowers" with all plant-based ingredients and zero added sugar, all while making them healthier, tastier, more ethical, and sustainable.
Super Cocoa is a powder that can be mixed into hot or cold water (think hot cocoa and chocolate milk) or thrown in the blender with one's favorite milk option to make a delicious smoothie.
Its rich chocolatey taste, courtesy of two kinds of premium cacao, is front and center, but it also contains "stealth" ingredients like pea protein, ancient grains and seeds, and greens to make it healthy.
Super Cocoa is available for a suggested retail price of US$29 for a 12-pack of 8.5-ounce individual serving packets on the company's website.
Liked this article? Subscribe to Food Business Africa News, our regular email newsletters with the latest news insights from Africa and the World's food and agro-industry. SUBSCRIBE HERE.