GLOBAL – The #Dairy Innovation Monday section this week features new interesting additions from Ben&Jerry's, Saputo, and N!ck's.
Ben&Jerry's launches two new vegan ice creams in the UK
Ben & Jerry's has officially launched two new vegan ice creams in the UK, expanding its long line of plant-based offerings.
Due to popular demand, Ben & Jerry's has veganised one of its most iconic flavors: Phish Food, which was launched in the US in 2021.
The chocolate ice cream, which features Marshmallow (15%), Caramel (10%), and vegan chocolatey Shaped Fish (7.5%) chunks, is available in Tesco stores across the UK, and there are plans to roll it out to other supermarkets next year, with an RRP of £4.50 (US$4.33) per tub.
To celebrate the brand's commitment to tackling modern slavery and child labour in the chocolate industry, Ben & Jerry's launched the other vegan ice cream, subbed Chocolatey Love A-Fair.
The chocolate ice cream is packed with salted cara-melt-in-your-mouth swirls and plenty of chocolatey & caramel chunks.
Saputo expands Montchevre brand
Saputo is preparing to bring an enticing range of flavor offerings to blend perfectly to holiday-focused entertaining under its popular brand Montchevre.
The Montchevre goat cheese logs flavors will include Spiced Pumpkin, Cranberry Cinnamon, and Truffle.
The company said each of these flavors complements a wide variety of usage occasions as they can be spread, warmed, dipped, crumbled, and served with consumers' favorite seasonal dishes.
Montchevre Spiced Pumpkin offers up a delicious blend of earthy pumpkin with hints of nutmeg and cinnamon and the tangy twist of goat's milk.
Bringing more coveted fall flavors to the cheese case, the Montchevre Cranberry Cinnamon variety features a fresh soft goat cheese log hand-rolled in cranberries with a touch of cinnamon.
On the other hand, Montchevre Truffle brings shoppers a perfectly balanced combination of fresh goat milk flavor and rich truffle undertones.
Jenny Englert, Senior Marketing Manager, Saputo Dairy USA explained that for an appetizer, the Montchevre Truffle log is the perfect ingredient for a warm and savory Cheesy Focaccia.
As a main dish, Montchevre Spiced Pumpkin log can be blended into a rich, delectable sauce as featured in this Creamy Pumpkin Chicken Pasta while for a sweet treat, Montchevre Cranberry Cinnamon log is the perfect base for this delicious Cranberry Cinnamon Tart.
N!ck's partners Minecraft to launch limited-edition collection of light ice creams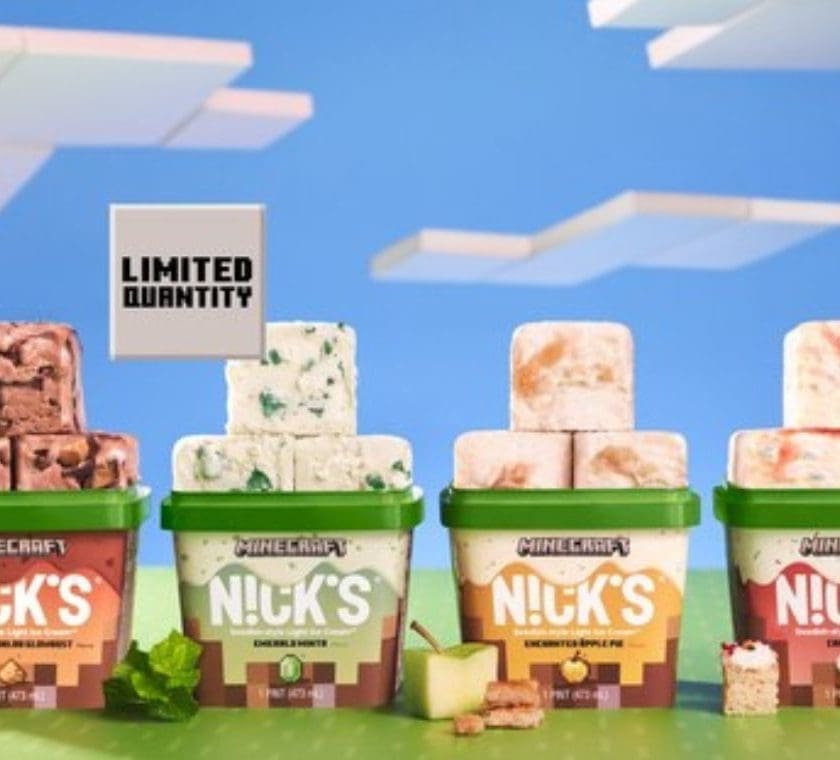 N!ck's, the better-for-you snack brand, has launched a limited-edition collection of light ice creams in square pints, in collaboration with Minecraft.
The collection marries the innovation of two Swedish brands, merging N!ck's patented food science technology and flavour expertise with Minecraft's game elements to create treats that are a healthier alternative to the full-fat and high-calorie ice creams on the market.
The brand released four keto-friendly flavors, including emerald Minta, a creamy mint ice cream with peppermint chips; cake blocka, a creamy birthday cake ice cream swirled with strawberry and sprinkles; peanöt choklad glow dust, a rich chocolate ice cream with gold mines of peanut butter cups; and enchanted äpple pie, a sweet apple pie ice cream with a swirl of graham crackers.
The ice cream collection is the first to bring Minecraft flavors to life in the real world, while also owning the iconic square pixelation design from the game.
Each pint is packaged in distinctive square containers, a departure from N!ck's traditional round pints, as a physical embodiment of Minecraft's signature in-game blocks.
Liked this article? Subscribe to Food Business Africa News, our regular email newsletters with the latest news insights from Africa and the World's food and agro-industry. SUBSCRIBE HERE.