GLOBAL – The #Dairy Innovation Monday section this week features new interesting additions from Brookside, Ghanaian unit Voltic Limited, Cold Stone Creamery, and Norseland.
Kenyan dairy giant Brookside launches fortified milk
Eastern Africa's largest dairy processing company, Brookside Dairy Limited, has introduced a new range of fortified whole milk dubbed Plus+ under its main brand Brookside.
The new UHT offering comes packed with fiber and vitamin A & D aimed to give consumers nutrients that may otherwise be lacking in their diets.
The company said the new offering targets consumers who are lactose intolerant, giving them a chance of enjoying milk consumption without experiencing any discomfort that ranges from diarrhea, painful gas, bloating, cramps, and other stomach upsets.
The products can be purchased in all retail stores around the region.
CCBA's Ghanaian unit Voltic Limited launches Hollandia Choco Malt Drink
Voltic (GH) Limited, a subsidiary of Coca-Cola Beverages Africa (CCBA), has launched Hollandia Choco Malt Drink in the country.
The flflavoredalt drink is a functional 3-in-1 beverage that combines all the goodness of milk, rich chocolate, and energy-giving malt in a ready-to-drink format for consumers.
According to the company, it eliminates the inconvenience of preparing chocolate-based beverages and comes in handy pack sizes of 200ml and 300ml, packed with vitamins and minerals.
The beverage is rich in Vitamin A, B1, B2, B3, B5, B6, B12, and E, bursting with great taste to ensure total enjoyment by the targeted consumers.
Coming in a 125ml aseptic pack, Chivita Smart Malt Drink is handy and can easily be enjoyed by children any day, anytime, and anywhere, on its own or with meals for a retail price of US$2.00.
Cold Stone Creamery unveils limited autumn ice cream flavor
US ice cream franchise, Cold Stone Creamery, has debuted a limited-edition, autumn-inspired ice cream flavor.
Brown Sugar Cookie Dough Sensation is made with brown sugar ice cream, cookie dough, brown sugar, and caramel.
Sara Schmillen, vice president of marketing at Kahala Brands, the parent company of Cold Stone said this season brings brown sugar, spice, and everything nice and cozy, and the company knows its guests will love our take on baked goods imagined as super-premium ice cream flavors.
The ice cream flavor will be available in stores nationwide in the US until 29 November.
Norseland's Ilchester launches new "nightmarish" Halloween cheese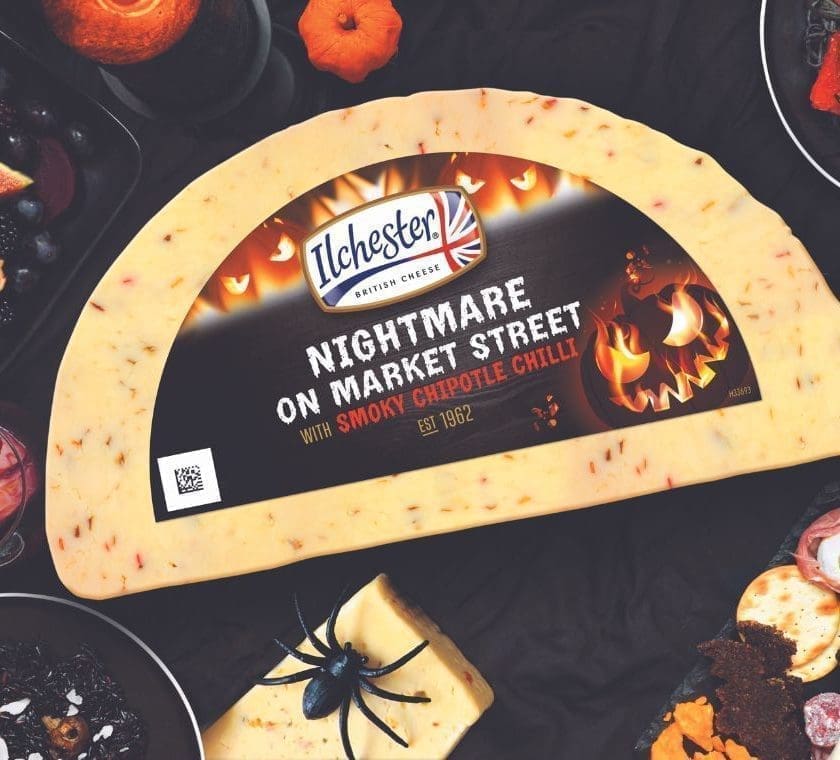 Norseland-owned brand Ilchester has launched a new seasonal cheese for Halloween that could give foodies a sweet and spicy "nightmare".
The UK's number one blended and snacking cheese supplier, which has ranges of both dairy and plant-based cheeses, has teamed up with Morrisons to introduce Nightmare on Market Street, a cheddar cheese blended with smoky chipotle and chilli jam.
Nightmare on Market Street cheddar will be available at all Morrisons Deli counters from 10 October and will RRP at £1.30 (US$1.29) for 100g.
Liked this article? Subscribe to Food Business Africa News, our regular email newsletters with the latest news insights from Africa and the World's food and agro-industry. SUBSCRIBE HERE.