GLOBAL – The #Dairy Innovation Monday section this week features new interesting additions from Love Cocoa, Oppo Brothers, Oatly, Kerry, and Nature's Fynd.
Love Cocoa's limited-edition cheese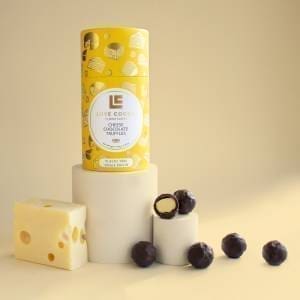 British chocolate brand Love Cocoa has launched limited-edition cheese and chocolate truffles, a more playful product in the run-up to Christmas, and has a luxurious in flavor.
The cheesy chocolate balls feature a cream cheese ganache filling with a dash of alcohol, which is then covered in a milk chocolate truffle shell hand-decorated with dark chocolate to deliver a bitter twist.
Love Cocoa's founder, James Cadbury, said with these Cheese Chocolate Truffles, the company was keen to push flavor norms further than the usual 'sprinkle of sea salt' and has spent months carefully tweaking the nuances between the distinct cheese note and the rich chocolate shell.
Love Cocoa's cheesy chocolate truffles are available on the brand's website for an RSP of £13.50 per 150g tube.
Oppo Brothers launch of new ice cream mini tubs collection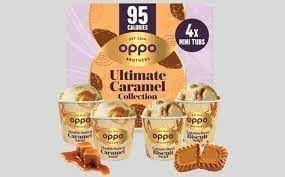 Oppo Brothers, a B Corp-certified company, has announced the release of its new ice cream mini tubs collection.
Featured in the 'Ultimate Caramel Collection' is the Double Salted Caramel Swirl along with new flavor, Lotus biscoff-style Caramelised Biscuit Swirl. Each tub is 95 calories or less.
The ice cream collection is available at selected supermarkets in the UK at a recommended retail price of £4.50 for four 100ml tubs.
 Oatly & 16 Handles Debut Pumpkin Spice Non-Dairy Soft Serve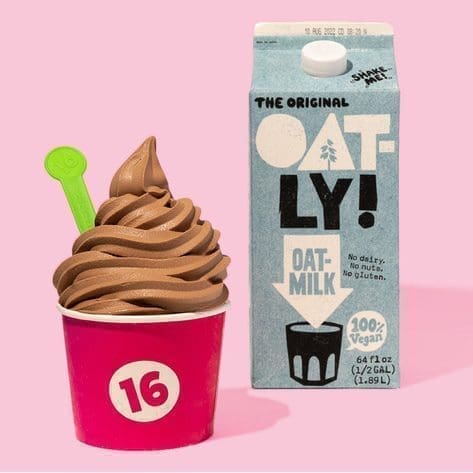 The Swedish non-dairy firm Oatly, partnered with US dessert brand 16 Handles to offer up a seasonal flavor for the spooky season.
Inspired by the start of the fall and the fast-approaching Halloween celebrations, the Pumpkin Spice non-dairy ice cream is created with a blend of natural flavors combined with Oatly's oat milk as a base, which creates 'sweet and savory pumpkin-flavored treat', said 16 Handles. It is the latest flavor to come out of the exclusive partnership between the two food firms.
Pumpkin Spice will be sold in October only and feature as one of the two core oat milk-based flavors served at all 16 Handles venues.
Like other Oatly-based flavors offered by 16 Handles, the ice cream is certified vegan, gluten- and GMO-free, and kosher.
Kerry introduces new line of plant-based cheese products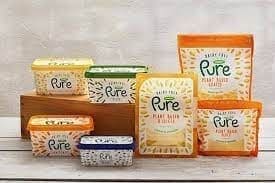 Kerry has introduced a new line of plant-based cheese products under its UK-based Pure brand, which has previously only offered dairy-free spreads since it was founded in 1994.
Described as "creamy and versatile", the cheese is made from coconut oil and comes in three varieties — Block, Grated, and Slices. On Instagram, Pure said the cheese is "An excellent addition for every meal time and especially good when melted over a Mac 'n' Cheese".
Additionally, Kerry offers functional solutions for brands developing their own dairy alternatives and has launched a virtual toolkit for alt dairy producers.
Kerry said its new [Pure] range is a natural addition to our existing pipeline and has been produced as a response to the increasing demand for plant-based products from consumers who are looking to reduce their dairy consumption or cut out dairy completely.
The new products are now available at Sainsbury's and will soon roll out at other major retailers.
Nature's Fynd debuts Dairy-Free Cream Cheese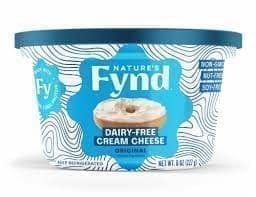 Nature's Fynd, a food tech company making meat and dairy alternatives with fungi-based Fy™ protein, has launched its Dairy-Free Cream Cheese is now available at Sprouts Farmers Markets across the US.
Made with Fy, a fungi protein grown using Fynd's novel fermentation technology, the new cream cheese compares to traditional cream cheese in taste and spreadability.
The offering can also be substituted in nearly any recipe calling for cream cheese ingredients, said the brand.
Fynd's notes its Dairy-Free Cream Cheese is fully vegan, nut-free, soy-free, and contains no artificial flavors or preservatives.
Available in Original and Chive & Onion flavors, each 8 oz tub retails for $4.99 and can be found in Sprout's refrigerated sections.
For all the latest food industry news from Africa and the World, subscribe to our NEWSLETTER, and YouTube page, follow us on Twitter and LinkedIn, and like us on Facebook.