Seth Godwin, a successful entrepreneur, and author once said: In a crowded marketplace, fitting in is a failure. In a busy marketplace, not standing out is the same as being invisible.
In Kenya's increasingly busy marketplace, one brand- CANNA- has managed to live by this mantra and In just two years grown to become its consumers' favourite maize meal. The secret? Producing premium maize flour which is marketed as an ordinary flour, to capture the interest of all lovers of ugali, Kenya's main food item.
"We knew that if we market our brand as premium product, it would chase away a lot of our would-be customers," says Agnes Irungu, Managing Director of Giant Millers, the makers of Canna Nutritious Maize Meal. "So, we introduced it as a regular product but when you open inside, you find that you have a very premium product." She Is quick to add that the Product Name CANNA Is driven from the very beautiful, bright, multicolored family of Canna Lily Flowers.
A very premium maize flour presented in a very attractive packaging was simply irresistible to lovers of ugali, who in all honesty are the majority in Kenya. The attractive packaging is what got customers buying the product, but the taste is what got them coming back for more, reveals Anthony Methu, the Head of Sales at the company.
A love for ugali sparks interest in milling
Canna Nutritious Maize Meal was launched in February 2020, just before the Covid-19 pandemic hit. "We started of course the planning and construction of the plant a few years before that," Agnes tells Food Business Africa Magazine.
What drove Agnes and her husband into food manufacturing was years of having an interest in the industry which drove them to studying manufacturing opportunities available in the country. They realize food manufacturing was safe to venture Into, assured of success that the sector offered. "You can never go wrong with food," she says. The decision to start with maize milling, however, was influenced by Kenyan's love for ugali. "Our family too loves ugali. We also wanted to start with a product that is widely accepted and moves fast," Agnes confesses. 
Starting a mill however requires more than just the love for ugali. There was wide consultation, especially with people in the milling business to determine the viability of the business and what was needed to set up one. Agnes reveals to us that her husband, Mr. Jamleck Kamau, who is the Company's Chairman, was a very critical player during the project conceptualization stage. "He has a wide pool of friends and associates that were able to give us a lot of information about the manufacturing industry," she shares. From this information, they were able to identify several equipment manufacturers whose bids they reviewed before settling on the one to supply them with milling equipment.
A hands-on leadership style
The proprietors, being novices in the food industry, were fully involved during the planning, design, construction, and equipment installation process. Agnes tells Food Business Africa Magazine that her interior design background came in handy during the construction and machine design stages of the project. She however had to undergo training in milling, if she was to competently run the business. "I went to the Buhler's African Milling school to learn milling and to know what to look out for," she reveals.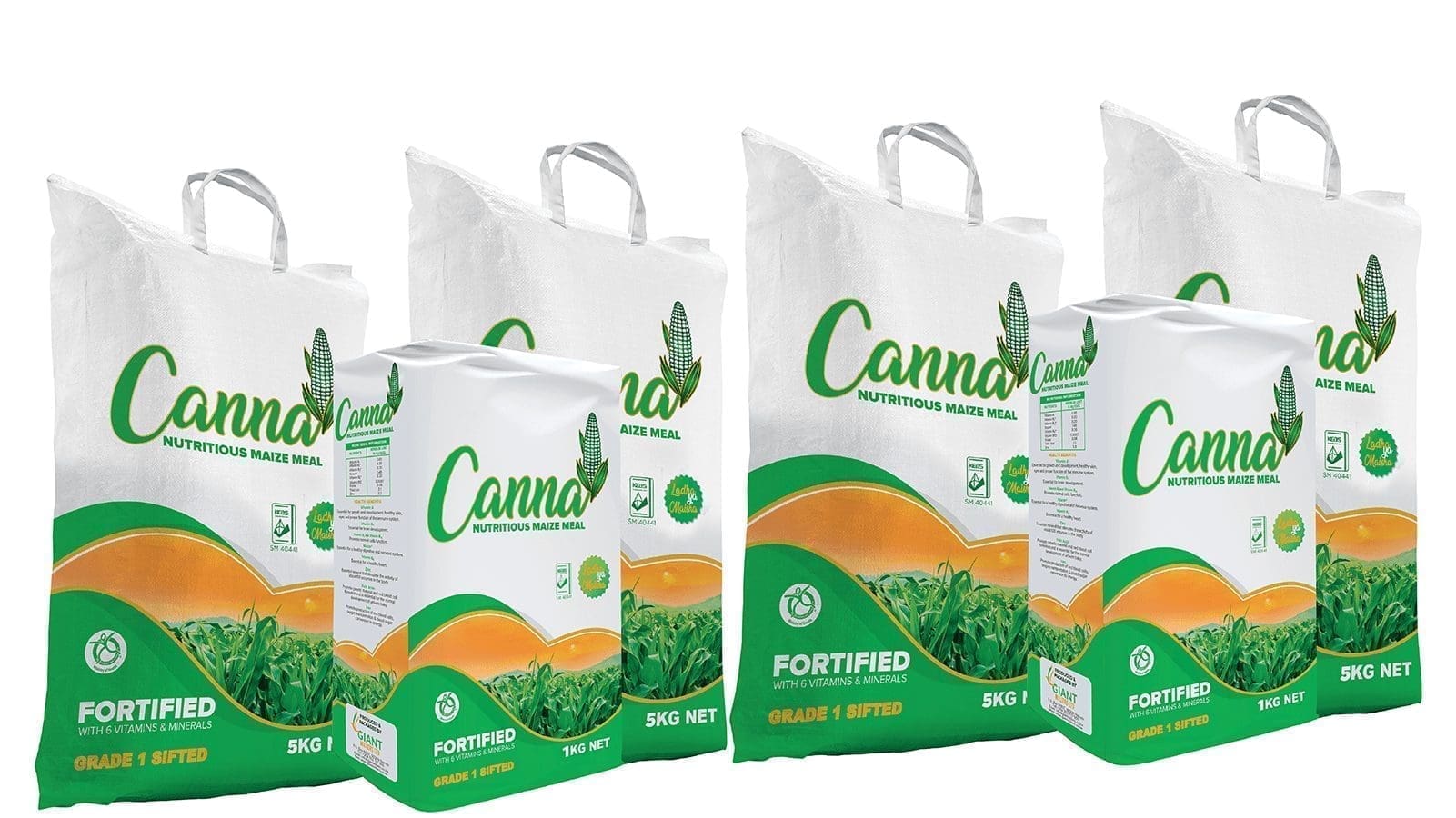 The impact of that organoleptic test is now being felt well beyond the walls of Giant Millers Limited as the flour has since received acceptance and is used in many households, hotels, Kibandas, nyama choma joints, etc.  "I think we have contributed a lot towards a shift to providing quality maize flours in the market," Agnes opines.
Tackling Aflatoxins head-on
All Millers in Kenya face the challenge of combating aflatoxins one way or another. Aflatoxins are poisonous carcinogens and mutagens that are produced by certain molds, particularly Aspergillus species. The acceptable limit by the Kenyan Bureau of Standards (KEBS) is 10 ppb (parts per billion) but some millers have in the recent past found themselves on the spot for packaging flour with aflatoxin levels that exceed the recommended limits.
Giant Miller Ltd was not willing to comprise its name so it brought in highly qualified food technologists to ensure only maize with low levels of Aflatoxin was accepted at the facility. Chief Miller George Muuru tells us that Giant Millers even set a more stringent internal standard of 5 ppb Aflatoxin limit for raw materials to ensure to arrest the problem. "Initially we faced some challenges.  We could sample the maize and find no significant levels of Aflatoxin but after milling we would find that the Aflatoxins in the flour was a bit higher than what was in the maize that we took in," Agnes explains.
At a loss of what could cause such a disparity, Agnes and her team conducted lengthy investigations. "In the process we realized that some traders were very tricky. They could lay bags of clean maize on top but lay others with aflatoxin below where ordinarily samples will not be picked," she reveals. To seal the loophole, the team at Giant Millers started doing more tests on every truck that delivered maize. "Sometimes we tested one trailer 12 times; row by row, until we were satisfied that the maize, we were taking was safe." The efforts paid off. "As a result, the traders understood our quality and now only delivers the right quality maize," Agnes beams. "Today I can call a trader and they tell me they have maize, but they don't have my quality. I love that. It means we have set a standard and they know it." Agnes however hopes that the Government ministry concerned will work with farmers to turn around their crops so that this problem gets resolved from source. If farmers are well advised and assisted to produce the right quality, they would get good returns for their produce.
Using automation to enhance product safety
Automation is a great concept in the food industry if well implemented. Involvement in the project at design stage gave the proprietors of Giant Millers an opportunity to understand the latest technologies in milling, including equipment that is normally offered as optional by the manufacturers. That is how Giant Millers ended up having a mill that is largely automated with minimum human interaction.
"Our mill is fully automated," Chief Miller Muuru boasts. "Everything is done in the control room and only a few tasks require manual labour." Automation reduces movement on the production floor, which according to George gives his team "ample time to concentrate on the task of milling."
The beauty of automation also is the high level of safety that comes with it. Everywhere in the mill, including the packaging section, machines carry out various tasks in the process. This reduces the risk of contamination, which is usually high when human interaction is present. At the packaging section, the ultramodern packaging machine automatically opens the packets, fills, folds, glues and puts the flour in the bale so that only the sealing of the bale is done manually.  George tells us that the equipment Is large enough to effectively package all the flour regardless of the number of shifts done in a day and night, all without the fatigue that would otherwise take a toll on staff if the process was manual. "It's effective and hygienic," its all George can say about the automated packaging machine.
A unique approach to market listing
Getting Canna Maize Flour to market on a tight budget, a limited sales team that numbered just three, and a raging pandemic required ingenuity.
Anthony Methu, the Commercial Manager, who has been a career salesperson with over 15 years of experience, was looking for a new challenge. When he came to Giant Millers Ltd, he saw a great opportunity and he grabbed it.
"To get listed into the retail industry in Kenya is not easy, as the industry has a lot of players," Methu confesses. But Canna Maize Meal, just like the Canna lily flower it was named after, was meant to flourish regardless of the market conditions.
Knowing fully well that his team of 3 salespersons was limited in what it could achieve, Methu chose a new strategy to leverage all the staff at Giant Millers dubbed "adopt a shop strategy," the new strategy recruited every employee from the Managing Director to the cleaner to be engaged in sales. The task was simple: introduce the Canna brand to the shop or kiosk near you. With everyone involved, the product started moving out of the factory and into the shops.
The adopt a shop strategy was just the start, the next phase was to conquer Kiambu County where the factory is located and the entire region around it. "Our strategy was to start where we are in Thika so as to efficiently manage our logistics," he reveals. "We then expanded into the Mount Kenya region up to Nakuru town. Afterwards, we expanded to North Rift. Currently I can say we are all over Kenya, apart from North Eastern and the Coast region."
A limited budget meant that Giant Millers Ltd had to be prudent in how it marketed its Canna brand. "We did not go to TV or radio. We started with people we call brand ambassadors who carried out in-store promotions."
This strategy Is relatively Inexpensive and gave Giant Millers Ltd a chance to have one-on-one interactions with their potential customers, stimulating sales more effectively. "We also turned to social Media, particularly Facebook where we did a lot of Ad sponsorships and this too helped us to create visibility. 
To further advance brand marketing, the company enlisted the services of Brand Ambassador to shoot a TV Ad and to influence the brand on social media.   At this point the company then got into broadcast media to reach the masses with the target of giving every Kenyan a chance to know, to buy and to taste the highly Canna Nutritious Maize Meal.
Mr. Methu revealed that the AFMASS Food Expo and conference held in December 2021 was the climax of the company's marketing events during the past two years. At the expo, Canna had for the first time a chance to deeply interact with customers and show them what their flour was all about beyond the attractive packaging. We came up with very Innovative recipes and made amazing tasty snacks using maize flour apart from Ugali and this became a quick show stopper at the Expo. At the end of the Expo, Giant Millers' mission to create visibility and sell the Canna brand to new customers was accomplished. "We also did win The Start Entrepreneur of the Year Award, New Innovative Product of the Year Award, the best food exhibition booth and the best dressed staff at this regional Expo" a jubilant Agnes remarks.
Giving back to the industry
After being in the industry for two years, Agnes who Is very committed the manufacturing Industry and a quick learner is confident that she has gathered enough experience to bring aspiring entrepreneurs under her wing to help with their startups. This, you could say, is her way of giving back to the food industry.
"We were assisted by an existing Miller to set up. We also want to help anybody that is coming up, should they need any insights from us," she reveals. She has already assisted three aspiring millers, particularly on how to produce high quality flour.  "We take them through what we have been able to set up in regard to quality control because we have been able to achieve that very highly within our mill."
For anyone aspiring to venture into the milling or any other industry, Agnes advises that one must understand the industry first. "Do your background check and your feasibility study first before settling on what it is that you want to do," she advices. Once you know what to do, Agnes advises you must get Involved from the onset of design and construction and ensure to learn as much as you can from the manufacturers of the machines.  Seek out existing similar businesses to learn from them. Getting as much knowledge as possible will help to effectively manage your business.
Preparing for the future
"The company has been in operation for exactly two years only. We can say that we are now firm on the ground," Agnes says.
Giant Miller's next plan is to build on its successes and learn from its challenges even as it seeks to build an even more formidable brand. Its success in producing high quality flour is one thing the company wants to maintain going into the future. "We have developed a passion for food production, especially because you realize that you can maintain quality and run the business without the usual struggles of corruption that many In the Industry face," she says. "If you maintain quality internally, nobody has any business to accuse you of anything and if that happens you are in a good position to defend yourself."
One of the challenges that the company has had to deal with every now and then is raw material shortages. Procurement of good quality maize has been the most challenging. "Maize is like gold in Kenya; at times It can be so expensive and unavailable." The erratic supply we are currently facing Is making the company to operate below its installed capacity. "Sometimes we are not milling everyday as we would have wanted to." Chief Miller George notes that the company has a contingency plan to prevent the same problem from recurring in the future. "We have plans to put up silos to store grain in bulk so as to prevent challenges with raw material shortages," he reveals.
Silos aren't the only plans that Agnes and her team have for the future. Methu, the Sales lead has his eyes trained on the North Eastern and the Coast region of Kenya, where the company is yet to have a footprint.
Responding to rising demand for the flour also has the Miller's proprietors thinking about expanding the mill. "We had started moderately because we had no experience in this Industry and didn't know how this business was going to go. However, the quick acceptability of our flour in the market means that we are currently operating 24 hours milling most of the week. We need a bigger plant," Agnes says. The company also has plans to venture into porridge and wheat flour milling. "We are already working on modifying the current machine to be able to process porridge flour."
Giant Millers is also not shy to expand beyond the Kenyan borders, if the opportunity presents itself. "Today I received a message from Zambia, someone is asking me whether we can go set up a mill there." Such Inquiries give her confidence that the options for Giant millers in the milling industry are still in plenty. Agnes who Is a firm believer In God has hope that the dream of future expansion will come to fruition. "We are trusting that God will continue to give us favor, wisdom and the knowledge we require to grow the business to higher heights."
This feature appeared in the March/April 2022 issue of Food Business Africa. You can read this and the entire magazine HERE