One of Southern Africa's leading beverage manufacturing companies, Namibia Breweries Limited, is one of those companies that have lived the test of time and on 29 October 2020 they proudly marked a significant milestone celebrating its centenary.
It is not every day that a company marks 100 years of existence; such a journey is characterized by resilience, reinvention and the collective efforts of not only the proprietors, but the stakeholders and community at large.
One of Southern Africa's leading beverage manufacturing companies, Namibia Breweries Limited, is one of those companies that has lived the test of time and on 29 October 2020 they proudly marked a significant milestone celebrating its centenary.
"We are officially 100 years! What an adventurous journey it has been for our business!" stated an excited Marco Wenk, Namibia Breweries Limited (NBL) Managing Director (MD) on the centennial of Namibia's most loved brewing company.
100 years of growth
The journey of NBL began in 1920, when Hermann Ohlthaver and Carl List, founders of Ohlthaver & List Group – the parent company of NBL – obtained a majority shareholding in four local breweries in Namibia: Omaruru Brauerei, Kronen Brauerei in Swakopmund, Klein Windhoek Brauerei and Felsenkeller Brauerei, both in Windhoek, following their liquidation.
At the time, the breweries were struggling to survive because of the war and its after-math and, with the difficult economic circumstances, no one had funding to sustain them. The four companies are said to be among the pioneers of beer brewing in the then South West Africa, as until the late 1800's beer in the region was imported from Germany.
The imported beer had a high alcohol content to preserve it during the long journey to Namibia by sea. It quickly became obvious that the beer was too strong for consumption in the hot African climate.
With the acquisition, NBL consolidated the breweries to form what was at the start known as South West Breweries (SWB), setting the malting and mashing rolling and until to date, the turbines keep whirling.
O&L Group Executive Chairman and great-grandson of Carl List, Sven Thieme, reflected with nostalgia the company's rich legacy spanning over ten decades. "Today, we remember and honour our founders and we celebrate the fact that what they envisioned 100 years ago has become a reality. When everyone saw four distressed breweries, they saw potential. We recognize and appreciate a century of visionary and inspiring leadership which has over the years embodied the core values and vision, which has resulted in NBL's reputation and legacy as a world-class brewing company."
In his speech, he did not forget to applaud all the team players for their continued commitment and support, which has made NBL the unique and great community it is today. "Indeed, you have added a colourful layer to the rich history of the NBL story by building more than just a company – touching so many lives together; investing in each other's dreams and creating a century worth of memories!" Sven Thieme remarked. The 100-year journey were marked by a range of milestones.
Strategic partnerships for growth
After the formation of SWB in 1920, the founders later acquired Hansa Brewery in Swakopmund in 1967. During this time, the company became the only remaining independent commercial brewery in Southern Africa. A major shift happened in the company when the breweries in 1983 upgraded and moved to the new state-of-the-art brewery in Windhoek.
SWB later renamed to Namibia Breweries Limited (NBL) in 1990, correlating to the same time when Namibia got its independence. It listed on the Namibian Stock Exchange (NSX) in 1996 and became a publicly owned company with the O&L Group as controlling shareholder.
Being a fully-fledged brewing company and seeking strategic partnerships, NBL partnered with Diageo, the world's largest distiller and brewer Heineken in 2003.  
The agreement saw Heineken – Diageo, acquiring 44% in NBL Investment Holdings Limited, which was being held by Interbrew, a division of Anheuser-Busch InBev (AB InBev). In addition, the two companies acquired a direct stake of 6.8% in NBL and as a result, Heineken and Diageo had an effective 28.9% stake in the brewery.
In 2008, a joint venture DHN Drinks was formed with NBL owning 15.5% of the company and the rest split between Heineken and Diageo. DHN Drinks held the licences for the combined beer, RTDs and cider portfolio of the three partners. It sourced beer from NBL's facility in Windhoek and from the Sedibeng Brewery Limited in Johannesburg. The latter was co-owned by Heineken (75%) and Diageo (25%).
Later in 2015, DHN Drinks' portfolios were split, with Diageo taking full ownership of the spirit segment and selling its indirect stake in NBL to Heineken.  This resulted to NBL holding a 25% stake in DHN Drinks and a 25% stake in Sedibeng, with Heineken holding a 75% stake in both entities. The decision to split from Diageo allowed the beer partners to focus solely on the beer category which would be beneficial to growing key brands in South Africa.
Currently, O&L Group and Heineken respectively hold an effective 29.69% and 29.68% share in the entity through the NBL Investment Holdings, accounting for a total 59.37%, with the remaining 40.63% is publicly held.
The strategic partnership between Heineken and NBL, which is still in existence until to date, enables them to benchmark, transfer skills and collaborate on brand campaigns. In addition to leveraging one another's brand portfolios and supply synergies, both parties have a volume migration agreement that provides joint access to the Sedibeng Brewery in Johannesburg and NBL's brewery in Windhoek. This creates production flexibility and efficiency options.
Other deals NBL has undertaken to strengthen its business include acquisition of Camelthorn Brewing Co, the first Namibian craft brewery in 2014. To further reinforce its association with craft-style beer, NBL entered into a partnership with Stellenbrau, a Stellenbosch-based craft brewer in 2016.
NBL's extensive value chain
NBL is one of the few large-scale commercial breweries in Africa that brews according to the German Reinheitsgebot – Purity Law of 1516, which requires the exclusive use of three ingredients: malted barley, hops and water.
Having a significant share of the premium beer category in Namibia, beer makes up 93% of the company's total volumes sales, as it strives to quench the thirst of Namibians with 108 litres per capita beer consumption, according to World Population Review.
Its beer portfolio is comprised of brands such as Tafel, Amstel Lager, Hansa, Camelthorn, King Lager, Windhoek, Heineken and Amstel. Some of the products are owned by the company, others are brewed under licence, with NBL acting just as the distributor.
The beer major undertakes its production at its Windhoek brewery, with a total technical brewing capacity of 3 million hectolitres. In addition to that, it has a micro-brewery at the Swakopmund Brewing Company, serving as a pilot plant for crafting and testing new beer recipes.
The company also has access to further brewing capacity through the production agreement with Heineken SA, who own the Sedibeng Brewery in Johannesburg with a capacity of 4.5 million hectolitres.
To feed its plants, most of the raw materials such as malted barley and hops are imported from Europe. Only King Lager is produced using locally sourced barley, courtesy of trials and research conducted by NBL in partnership with the University of Namibia and the Ministry of Agriculture, Water and Forestry in 2011. King Lager was conceptualised to encourage the development of a Namibian barley industry to support local procurement, job creation and empowerment. It was launched in October 2015, after years of extensive research and product development.
After production, the beers are packed in different sizes of glass bottles, cans and kegs, filled at its five packaging lines at the Windhoek site. In 2019, NBL injected N$49.5 million (USD 3.2 million) to upgrade its lines and invested in 12-pack capability.
Transitioning to a total beverage maker
Other than beer, the beverage maker's portfolio is also comprised of a range of soft beverages and low/non-alcoholic products, produced at its Windhoek plant. The expansion of its portfolio from beer happened in 2012, the same time that NBL made a record-breaking sale of over 1 million hectolitres of beer in Namibia for the first time in its history.
Transitioning from a brewery to a total beverage manufacturer, the company introduced a selection of soft beverages featuring labels such as AquaSplash water sourced and bottled in Okahandja and Outjo; Mckane range of mixers; and Fruitree nectar drink. Its low and non-alcoholic drinks are variants of its leading brands Windhoek and Tafel, in addition to its recently launched Horizon brand.
NBL's products are not only available in its home country but in the greater Southern African Development Community (SADC) region courtesy of an extensive distribution network. They are exported to 13 countries outside Namibia and South Africa.
To efficiently serve its wide market, the beverage company delivers the products to six depots and five agencies in Namibia. In 2019, NBL opened a new warehouse facility in Walvis Bay, which was constructed at a cost of N$27 million (USD 1.7 million), in a bid to offer customers and employees a safe and pleasant working environment. With the opening of the new space, the brewery completely closed the old Hansa Brewery in the central Swakopmund business district which was acquired in 1967 and later converted to a warehouse in 2005.
The company also extended its main site warehouse at the Windhoek plant by approximately 1, 127 m2 to pick mixed pallets and enable direct drops.
Sustainability initiatives at the core
Consumers across the globe are more aware of the impact that their consumption habits have on themselves or on society. This leads to them expecting transparency and ethical behaviour from brands, with Innova Market Insights' Top Ten Trends in 2021 highlighting that 60% of global consumers are interested in learning more about where their foods come from.
As a purpose-driven company, NBL has always considered this important and has aligned its contribution to a sustainable world to the United Nations SDGs. The company's environmental initiatives focus on maximizing production in an efficient and effective way that ensures fewer resources are utilized to ensure the sustainability of the business for the benefit of all its stakeholders.
For a start, NBL is the biggest industrial consumer of water in Windhoek, as water is the primary ingredient in its products and is used in almost all manufacturing processes. Following a sustained regional drought in 2016, NamWater, the national bulk supplier of water to the City of Windhoek, announced a 40% requirement for water savings. Heeding to the call NBL obtained licences from the Department of Water Affairs to drill boreholes at its premises to cater for part of its water needs and implemented further water-saving options such as reclamation in the brewing and packaging plants, and water reduction measures in the production process. As a result, the total litres of water used for production has declined by 9.4% over the past eight years.
Further to that, the excess water used during production is reclaimed and transferred into the city's effluent system, where it gets recycled.
Going by its slogan of more beer, less water, the company purchased equipment to extract beer from surplus yeast, to further reduce its water consumption, effluent volume, organic load in effluent, and heat and cooling costs.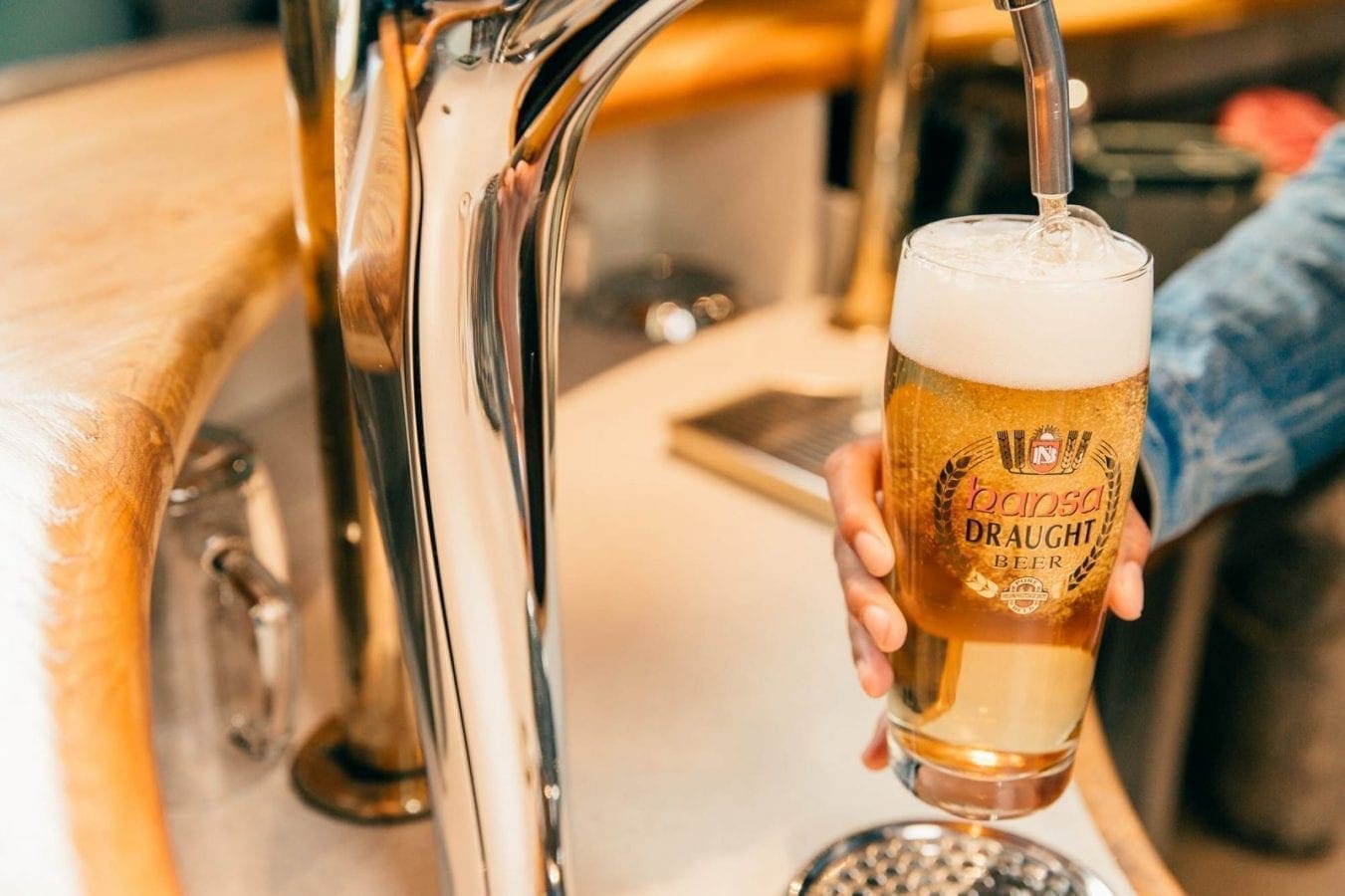 The beverage company has also mulled investments in the establishment of alternative energy systems that will lower its carbon footprint. It established its first biomass boiler at the Windhoek brewery, which is still the biggest wood boiler in the country. The boiler has replaced the use of about 4.6 million litres of heavy fuel oil since it was taken into production in 2017, equating to a CO2 emissions reduction of 12,300 tons. With the system, the company was targeting to generate 80% of thermal energy by 2020, which it has indicated that it was on track to meet the target before the COVID-19 related lockdowns.
In addition, the company has installed an on-grid solar photovoltaic (PV) facility, which has met 7.9% of its electricity demand in the year 2019/2020. Overall, the solar plant, which was established in 2012 has provided NBL with approximately 8,958,574 kWh of green energy, thereby saving 8,958 tons of CO2 emissions.
NBL is also fully self-sustainable in its CO2 production and consumption needs and sells the surplus to external customers. This was made possible thanks to the company replacing its outdated carbon dioxide recovery plant with a modern, efficient and environmentally friendly plant, having an additional 98 tons of storage capacity.
As part of its efforts to further its sustainability agenda, about 50% of the company's production is packaged in returnable containers that are collected through an extensive network to minimise waste. During the financial year 2019/2020, NBL achieved a return ratio on its 500-ml and 750-ml returnable bottles of 99.7%.
To ensure effectiveness of the initiative, the company has entered into an agreement with AB InBev Namibia to exchange returnable bottles weekly. In its communities, NBL encourages recycling through Project Shine, the schools recycling competition, and through its founding membership of the Recycle Namibia Forum.
Community leadership
Other than being a leader in the beverage sector, NBL is a highly stakeholder-oriented business. The company's emphasis is not only on the products it sells, but on how the entire business contributes to the well-being of the system in which they operate in. They have done this through framing its material matters which are in support of its purpose of Creating a Future, Enhancing Life. 
Taking its role as a corporate citizen seriously, NBL has formulated long-standing partnerships with various Corporate Social Investment (CSI) partners. Key elements in its CSI portfolio include commitment to responsible drinking, environmental preservation, health and education as key drivers of social upliftment within communities.
One of its notable initiative is the DON'T DRINK & DRIVE and ENJOY RESPONSIBILITY campaigns, which NBL has been running over the past years in a bid to promote responsible behaviour among motorists and road users. The irresponsible and life-threatening act of driving under the influence of alcohol is one of the contributors to road accidents and fatalities in Namibia, which has proven to be a great concern.
In its pursuit of creating a future through education, through the Desks for Education project, NBL employees and group engineering company Kraatz repurpose steel from packaging waste into quality school desks that create a comfortable and positive learning environment for students.
The company's involvement in the society has also been seen and felt during the current COVID-19 pandemic. In line with its vision to be "a catalyst for positive change, creating new realities and fulfilling dreams", NBL has embraced the 'new world' through its newly launched #TakesANation campaign that is aimed at encouraging responsible behaviour when consuming alcoholic beverages of any kind. The #TakesANation campaign is a call-to-action to shop responsibly; drink responsibly; socialize responsibly; entertain responsibly and enjoy responsibly.
Awards winning company
NBL's 100 years of operations has led it to become one of the iconic beverage companies in the region as clearly depicted by the numerous awards, accolades and recognitions it has received over the years. In 2020, the company has been the recipient of the long-term product quality award from the Deutsche Landwirtschafts Gesellschaft (DLG) for the 13th consecutive year. Participants only qualify for this award if they have received DLG medals for five years in a row. The international DLG Quality Evaluation rates beer brands brewed according to the Reinheitsgebot ("Purity Law") of 1516 against quality specifications for taste, analytical and biological standards. NBL became the first African brewery to be acknowledged by the award in 2005.
Other awards it has received include the European Beer Star Award; NMA Corporate Manufacturer of the Year award; Great Place to Work certification for Africa 2019; and it was listed on the 2018 Sunday Times Top Brand Awards beer category, among many others.
ABOUT AFRICA'S LEADING FOOD COMPANIES
Africa's Leading Food Companies profiles some of the most impactful food, beverage and milling companies in Africa. These companies have one thing in common: a focus on producing high quality food products to consumers in Africa, while working diligently with local communities to improve local economies and food security. They are also leaders in their industries and regions, bringing in new innovative ways to produce, package and distribute food products; and take the lead in adopting sustainable business practices that leave the environment and communities in a better place.  
This feature appeared in the March/April 2021 issue of Food Business Africa. You can read the magazine HERE