GHANA – American restaurant chain and international franchise, Pizza Hut, is set to relaunch in Ghana under new ownership.
Melcom Group of Companies, a diverse business conglomerate, is set to acquire the franchise rights of the fast-food chain in the country.
The acquisition will mark the entry of Melcom Group into the Quick Service Restaurant (QSR) business, expanding its business interest beyond retail, modern trade, plastic manufacturing, electronics assembly and travel.
According to reports by Ghana News Agency, the pizza maker would be operated by one of the group's subsidiaries, Skyline International Limited.
"Pizza Hut International is proud to partner with the Melcom Group to re-open Pizza Hut in Ghana. We are excited at the prospect of our new partnership and have no doubt that we will grow and flourish together.
"We look forward to many more years of proudly serving the best-tasting pizza in the world to the wonderful people of Ghana," said Ewan Davenport, Managing Director of Pizza Hut Middle East, Turkey, and Africa.
Pizza Hut, a subsidiary of Yum! Brands is globally recognised as the largest Pizza Chain, with more than 18,000 restaurants in over 100 countries worldwide.
Melcom will leverage its business prowess in the Ghanaian market to grow the pizza brand in the country as it currently boasts of having a network of 50 retail outlets.
Just as it brought retail shopping to the doorstep of Ghanaians nationwide, the company is focused to make Pizza Hut, the preferred destination for families to have the "World's Best Pizza".
"We are extremely excited and optimistic about our partnership with Pizza Hut in Ghana. This new area of business takes our vision of being a diversified group one step ahead and creates more employment opportunities alongside our expansion of the existing core retail business".
"We will announce the relaunch of the brand very soon and scale up considerably across the country in the next couple of years," stated Melcom.
Krispy Kreme opens first Egypt store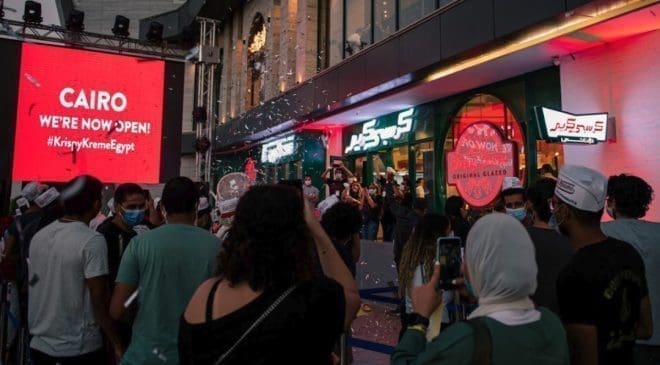 Meanwhile in North Africa, American restaurateur Krispy Kreme Donuts specializing in premium donuts and coffee has opened its first Egyptian store in Cairo.
Located in the Arabella Plaza shopping center, this facility can produce approximately 1,000 units of donuts per hour, reports agence ecofin.
For its new adventure, the company has joined forces with its Kuwaiti franchise partner Americana Group, one of the main players in the food industry and distribution, which since 2007 has been offering its products in several North and Middle African nations.
This establishment is part of Krispy Kreme's strategy to accelerate its expansion on the African continent.
"We continue to invest in our global business — driving growth in our existing markets and expanding selectively where we see the kind of great opportunities that we do in Egypt.
"While we are still in the early days, we already see the benefits of this investment in expanding our omni-channel model as our international business continues to drive strong performance," says Michael J. Tattersfield, chief executive officer of Krispy Kreme.
Americana, an independently owned and operated franchise partner of Krispy Kreme, currently operates more than 200 Krispy Kreme shops in five countries, including United Arab Emirates, Kingdom of Saudi Arabia, and Kuwait.
Liked this article? Subscribe to Food Business Africa News, our regular email newsletters with the latest news insights from Africa and the World's food and agro industry. SUBSCRIBE HERE