South Africa is the pioneer of Craft beer in Africa with its first craft brewery, Mitchell's Brewery, opening its doors in 1983. In less than 3 decades, the craft beer landscape in the rainbow country has changed tremendously and is now dotted with over 215 breweries, according to Craft Brewers Association South Africa.
Craft beer, which in 2015 accounted for accounted for just 1% of total beer sales, has grown tremendously in the past few years and now accounts for more than 5% of beer volume consumes in South Africa. New growth drivers in this category are young consumers thirsting for something more than just the average beer with its thin body, short aftertaste, and no flavours.
Another major driver for growth in this market is the recent entrance of black entrepreneurs into the craft beer industry. "The main producers and consumers of commercial craft beer in South Africa have traditionally been white men," says Lebona Moleli, Johannesburg-based entrepreneur and founder of newly launched craft brewery called Mohope. Blacks, who are the majority in the country, did not have a sense of belonging. The craft beer did not quite capture their taste and imagination. Seeing an opportunity, African entrepreneurs jumped into the scene, launching products, which according to Moleli would "encourage more discerning Black men and women consumers to participate in the craft beer market."
His brewery, which sold its first craft beer in 2019, is among black owned breweries that are taking craft beers to the community, quenching thirsts of thousands with a premium quality drink that takes its inspiration from the rich African culture and heritage.
Growth across the continent
Unlike in South Africa where craft beer has been in existence for over three decades now, craft beer in the rest of the continent is relatively young.
Kenya is arguably among the 'mature' craft beer industries in Africa south of Sahara and North of Limpopo. The country's craft beer industry has been in existence for more than 10 years now and shows no signs of putting breaks on its growth pedestal.
Its pioneer, Big Five Breweries, which launched in 2009 has since expanded and has 3 craft beer outlets, two of which have dedicated brewing facilities. The scene has also seen the entrance of new players such as Bateleur Brewery, and most recently 254 Brewing, which opened its doors to the public in February 2020. The entrance of new players shows that there is demand for craft beers in Kenya and the potential for future growth is huge.
In Namibia the interest in craft beer is only beginning to expand and craft breweries are sprouting in different parts of the country's capital Windhoek. Namib Dune craft brewery launched in 2017 is leading the way in shaping the craft tastes of Namibia's beer and is currently the largest independently owned craft brewery in the South African nation. Other breweries such as Beer Barrel, Brewer and Butcher, and Camelthorn Brewing quench the thirst of a growing group of craft beer lovers.
In the west, Nigeria is slowly emerging as a craft beer destination with great potential. One such craft brewer, Bature brewery has opened its doors in Abuja to serve the needs of a niche market that is tired of bland, mass-produced beers. Since its launch, Bature has become a darling of many Nigerians who have had a chance to taste it and now the company plans to open a new microbrewery in Lagos, the country's largest city.
In the neighbouring Ghana, craft beer seems to be prospering with breweries such as the Inland microbrewery being in existence for more than 17 years. Another brewery, the Tema Microbrewery, which was launched recently, prides itself to be Ghana's first truly craft beer given that its strictly follows the German purity law of making beer popularly known as Reinheitsgebot.
Moving further to the North Eastern part of the continent, Ethiopia proudly stands out as a rising craft beer market. Although its craft beer industry is not more than five years, Ethiopian breweries are striving to bring together the heart of traditional brewing with the reliability of modern technology, producing high quality beer that puts flavour first. In this country with more than 100 million people, two breweries stand out: The Beer Garden Inn launched in 2006 and the Bole Microbrewery, which marked its second anniversary in 2020.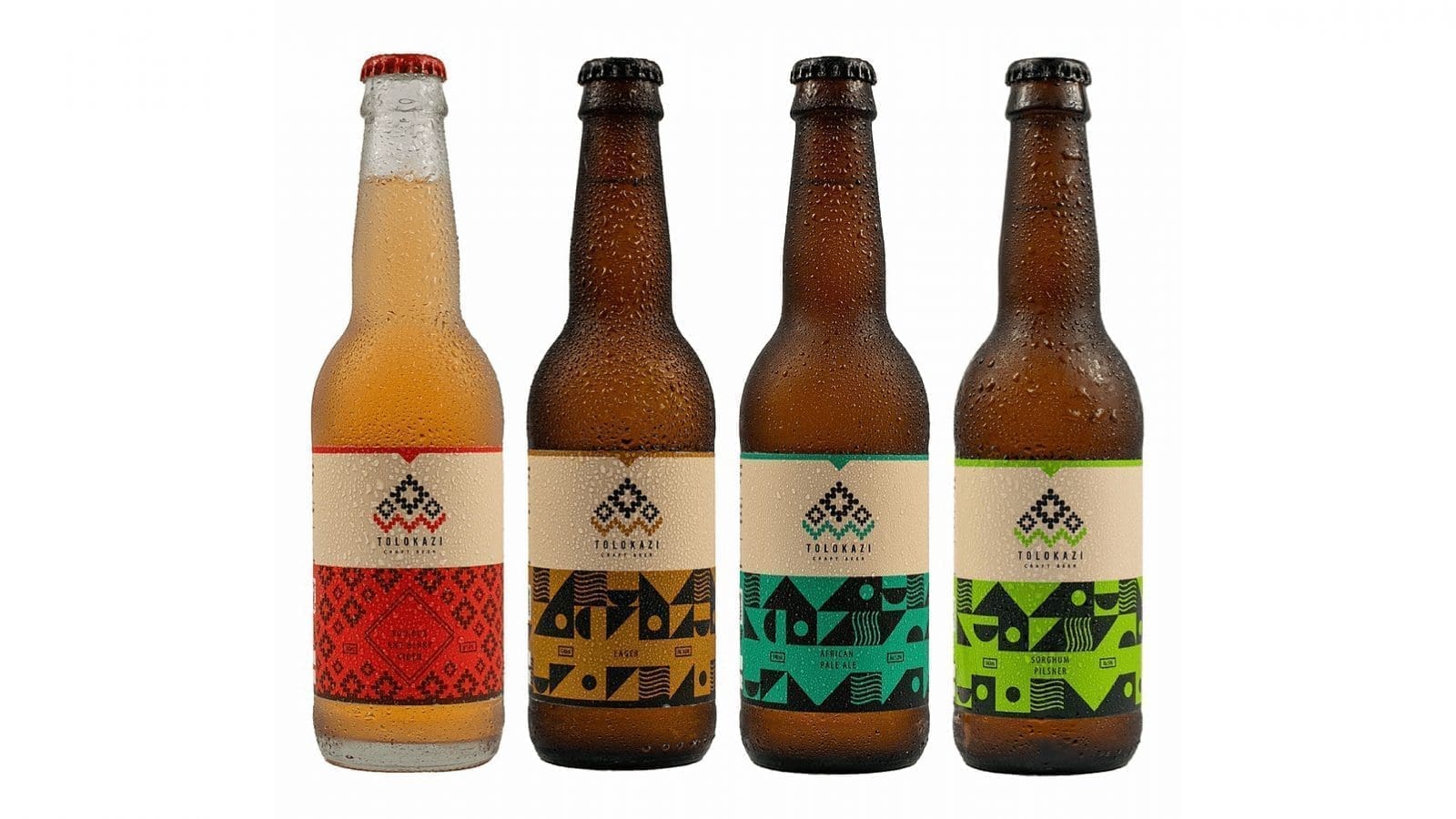 Big boys want a piece of the pie
As consumption of beer gradually matures in the continent and growth tapers off, large-scale beer manufacturers in the continent are looking to tap into the budding craft beer market as their next frontier for growth.
According to latest research by Canadean research firm, growth for mass produced beer in Africa is expected to grow at a CAGR of 5% between 2020 and 2025. This is a smaller growth rate compared to the 29% annual growth rate for craft beer in the continent, as projected by Market Data Forecast. It therefore makes sense that any forward-thinking brewer will want to have his hold on the craft beer industry.
Although craft beer is relatively small in Namibia as compared to South Africa, Namibia breweries (the largest brewer in the country) is betting on it as its next growth frontier. The brewer has acquired the assets of a struggling craft beer maker Camelthorn and formed a partnership with South Africa based craft beer maker Stellenbrau to enhance its capacity to produce premium, high quality beer. Thanks to the acquisition, NBL now has a range of craft beers that include Helles Lager, Weiss, India Pale Ale, and Urbock.
This trend is already popular in Europe and North America where multinational companies such as AB InBev, Constellation Brands and Heineken have all acquired craft beers.  Today, AB InBev alone owns 10 brands in the United States, which until a few years ago were independently owned craft breweries. It can only be expected that as the craft beer industry continues to grow in the continent, other major beer manufacturers in the continent would want to venture into the business.
Other brewers are not taking the acquisition route. East African Breweries Ltd (EABL), East Africa's largest brewery has introduced a number of craft beers to meet the needs of discerning consumers that are yearning for more flavourful beer products. The brewer, which has been on an innovation drive, has Tusker Premium Ale and Hop House 13 in this category.
In South Africa, SA Breweries, part of AB InBev, took a different route to the craft side by opening its very own craft brewery at its Newlands plant just out of Cape Town, the site of South Africa's oldest brewery. Dubbed Newlands Spring Brewing Company, the 2000 litre brew house has a rich history dating back to the 17th century.
Brews become better and more African
As the craft beer industry matures so does its quality. Brendan Hart, founder of Frontier Beer Co., a South African craft brewery says that when starting out, some of the beers were not as good since not many brewers had the packaging technology to present a beer well in retail and distribution channels. Nick Smith, chairman of Craft Brewers Association South Africa (CBASA) in an interview with CNN however, notes that the craft beer industry in Africa has "come on in a big way in the last five years or so."
The beers, according to Smith, are getting better in quality and brewers are moving beyond styles influenced by the U.S. and Europe to make original beers drawing on local ingredients and beer culture. One company that is a true testimony of the maturing craft beer in Africa is Mohope Brewery, which according to its founder Moleli, is a premium craft beer that takes its inspiration from Basotho culture and heritage. Brewsters Craft, South Africa's first black female majority owned craft brewer, has its Tolokazi Sorghum Pilsner that incorporates sorghum in the formulation, according to Apiwe Nxusani-Mawela, the founder of the company. It also has Tokolazi Hibiscus Hop Brew, which is a zero alcohol drink with hibiscus. In Kenya, the Big Five Breweries has a new adition to its stable of beers: Its Crazy Donkey IPA, which is an unfiltered has a spicy and grassy aroma from its combination of aroma hops and local stimulant, miraa or khat.
In the west, Ghana's Inland Microbrewery is also another bastion of a maturing craft beer industry in the continent. Its founder Clement Djameh says that the brewer produces several different varieties of beer all without the use of imported malted barley, upon which Ghana's two major commercial breweries almost exclusively rely.
Hurdles on the way
Although an attractive venture, the craft beer industry in Africa is not without its challenges. For starters, the craft beer industry in most countries apart from South Africa is relatively young and therefore the technical expertise to produce high quality craft beer is lacking. Sourcing raw materials and the requisite equipment is also another challenge that craft beer makers must overcome.
In all the above scenarios, they are usually forced to import either from South Africa or from European countries, where the industry has been in existence for more than a century now. In Botswana for instance, craft brewer Big Sip sources most of raw materials from South Africa, as they cannot be found in the country, according to its co-founder Alex Moss. The same is the case for Bole Microbrewery in Ethiopia, which sources its materials from Germany.
The other challenge is what Kevin Conroy, co-founder of Nigeria's Bature brewery describes as a byzantine bureaucracy when it comes to securing a license. This is probably why Camelthorn, which launched operations in Namibia in 2009, was the first to get such a license in decades. The last license had been issued to NBL in 1920.
Finally, the other main challenge is on price. Craft beers usually retail at higher price as compared to mass produced ones. In Nigeria, Bature's 330 ml bottles of beer can cost up to 2,000 naira ($6.37) in a bar, while a 600ml Heineken can sell for 800 to 1,200 naira each in the same bar. Given the continent's consumer price sensitiveness, penetration of this beer is not anticipated to become widespread. Due to this, many analysts believe that even in South Africa where the industry is growing at a lightning speed, they don't see craft beer becoming anything but a niche product, at least in the medium term.
The other significant challenge that the craft brewing sector in Africa faces is the Covid-19 pandemic. According to the Craft Brewers Association of South Africa, the pandemic and its associated lockdowns, had a devastating effect on the South African industry, with 75% of breweries indicating significant drop in sales of 60-100% and 7 breweries closing permanently during June 2020. The same can be said of many craft brewers who usually rely on on-premise consumption to grow their drink and food sales across the continent.
Future of craft beer in the continent
Despite the challenges that the industry faces in the continent, analysts project that just like in the rest of the world, craft beer in the continent is expected to continue posting strong growth in the coming years. Rising incomes in the continent compounded by a rising consumer preference to new styles and flavours offered by craft beer are expected to continue fuelling the growth of craft beer in the continent.
Market Data forecasts the craft beer market in Middle East and Africa region will grow at a CAGR of 29% between 2020 and 2025. This is a fourfold growth compared to the 7% growth that the rest of beer industry is expected to achieve during the same period. It further projects that the craft beer market in the region which is currently worth US$8.75 million will be worth US$39.45 million in 2025.
Craft beer entrepreneurs are equally optimist about the potential of Africa's craft beer. Ghana's Inland brewery's founder Djamel wants to expand his brewery and make it the largest in Africa while in Kenya, the Master Brewer at Big Five craft brewery Aleem Ladak expressed his confidence that the craft beer industry in the country could thrive well beyond the confines of the country's capital, Nairobi.
Olivier Nicolai, an analyst at Morgan Stanely says, "If I was to take a bet over the next 20 years if the market grows or declines, I would definitely say it is going to grow, but it is volatile and at the moment you have massive headwinds."