#Snack Tuesday this week features exciting new products from Hostess, Better Together, Get Golden, Lupii, Stacy's Pita Chips, Baked by Melissa, Sprinkles and Companion Baking.
Hostess adds to Halloween-themed snack lineup
Hostess Brands, Inc. is introducing Creepy Caramel Ding Dongs, limited-edition fudge-covered snack cakes with caramel crème filling as part of its Halloween limited-time offerings.
In addition to the Halloween offerings, Hostess announced the return of three other fall-flavored treats: Pumpkin Spice Flavored Twinkies, Iced Pumpkin Flavored CupCakes and Caramel Crunch Donettes.
Hostess said all of the snack cakes are available in a multi-pack at a suggested retail price of US$3.99, while Hostess Iced Pumpkin Flavored Cupcakes, Hostess Caramel Crunch Donettes, Hostess Spooky Twinkies and Hostess ScaryCakes also are available in single-serve packages at a suggested retail price of US$2.30.
The fall snacks became available earlier this month while the Halloween-themed snacks will roll out in October.
Tröegs Independent Brewing partners with Unique Snacks to create beer and pretzel pairings for the fall
Tröegs Independent Brewing is partnering with Unique Snacks, Reading, Pa., to once again offer craft beer and signature pretzel pairings.
Pairing options range from crispy, crunchy and citrusy (Tröegs' Perpetual IPA and Unique Snacks' Original Splits) to bold, dark and malty flavor profiles (Troegenator Double Bock and Extra Dark Splits).
This year, consumers also will be able to enjoy a new pairing option, mixing Tröegs' Oktoberfest Lager and Unique's Sourdough Craft Beer Pretzel Rings.
Get Golden debuts a new chocolate sea salt bar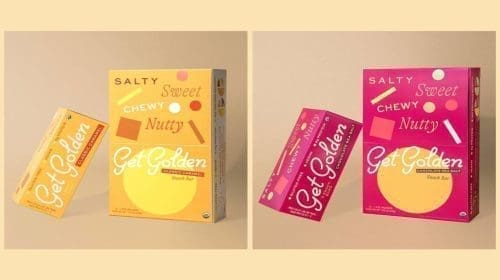 Better-for-you bar brand Get Golden has debuted a new chocolate sea salt bar, which joins the flagship caramel flavored bar.
Made with nuts, puffed quinoa and a blend of seeds, including sunflower, chia, sesame and pumpkin, both bar flavors are USDA-certified organic, gluten-free, dairy-free and contain no refined sugars.
The binding "caramel" ingredient is made with a proprietary blend of turmeric and coconut butter that mimics the taste and texture of traditional caramel, according to the company.
Stacy's Pita Chips launches new snack with Girl Scouts of the USA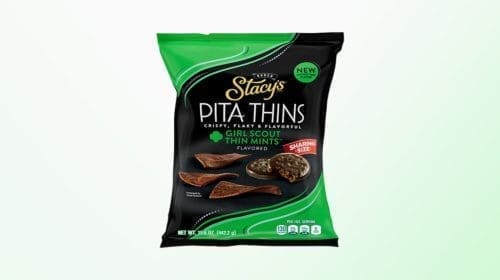 Stacy's Pita Chips, a brand of Frito-Lay North America, which is a division of PepsiCo., Inc., has launched a limited-edition sweet pita snack in collaboration with Girl Scouts of the USA (GSUSA).
The Stacy's Girl Scout Thin Mints Flavored Pita Thins combine the crispy thinness of Stacy's pita thins with the chocolate-mint flavor of Girl Scout Thin Mint cookies.
Baked by Melissa unveils astrology-themed cupcake collection
Baked by Melissa, a New York-based bite-sized cupcake bakery, is launching its Baked by Melissa x Aliza Kelly Zodiac Cupcake collection. Starting Wednesday, September 7 in-store and online, customers can get 25 packs of each zodiac sign for US$34 each.
Sprinkles teams with celebrity chef for Mexican-inspired cupcake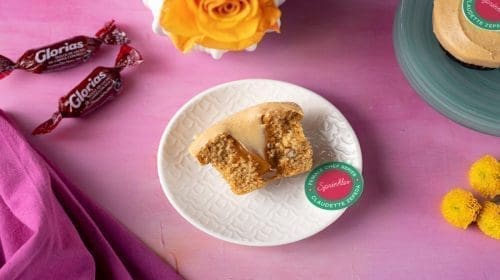 Bakery chain Sprinkles, has partnered with Caludette Zepeda, recent challenge winner of the American cooking show 'Quest for an Iron Legend' to release a limited-edition La Gloria cupcake that brings national recognition and honor to Mexican desserts.
La Gloria cupcake is a decadent caramel cake studded with pecans, filled with dulce de leche, topped with a salted caramel frosting and sprinkled with cinnamon sugar. The cupcake will be available in all nationwide bakeries and ATMs September 12-25 for a price of US$6.
Companion Baking creates limited-edition apple crisp bread pudding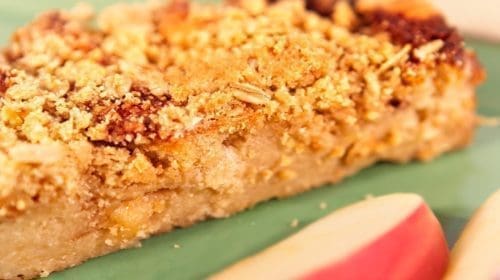 St. Louis-based distributor of breads and pastries Companion Baking is expanding its bread pudding offerings for fall with a new Apple Crisp Bread Pudding – available for a limited time only.
As it continues to grow by popular demand, Companion incorporated the bread pudding into its frozen program for regional and national retailer distribution.
Since then, it has started offering several flavors, including Original, Chocolate Mocha, Maple Pecan, Banana Chocolate Chip, Pumpkin Spice and now the newly developed limited release Apple Crisp.
Lupii expands into pasta category
Lupii, a female-founded snack startup has launched a new line of Lupini beans based boxed pasta. A regenerative crop, lupini beans pack three times more protein than eggs and three times more fiber than oats, according to the company.
Pasta shapes include elbow, penne and rotini. The recipes include sweet lupini flour, chickpea flour and tapioca. A serving has 17 grams of net carbohydrates, 14 grams of protein and 12 grams of fiber, while chickpea pasta has 27 grams of net carbohydrates, 12 grams of protein and 5 grams of fiber per serving.
Lupii pasta is available on the company's website and Amazon.
Liked this article? Subscribe to Food Business Africa News, our regular email newsletters with the latest news insights from Africa and the World's food and agro industry. SUBSCRIBE HERE.