GLOBAL – #Snack Tuesday:  This week's new products roundup features exciting new products from Kellogg's, Krispy Kreme, Miso Tasty, Fudge Kitchen and CLIF as well as a range of products debuted at the 2022 Sweets & Snacks Expo.
Tofu Tasty puts a spin on classic tofu with dried tofu knots
Tofu Tasty, a sister brand of food company Miso Tasty, has launched dried tofu knots as it looks to re-imagine the staple Asian ingredient.
The knots are made from soybeans and water, are all-natural, gluten-free, plant-based and are also nutrient-rich – boasting 45% protein content.
The company describes the flavor profile as more intense creamy and savory than fresh tofu, and is both "chewy and flaky".
Tofu Tasty dried tofu knots will launch into over 200 Waitrose stores in July for a recommended retail price of £3.29 per 300g pack.
Kellogg's RXBAR debuts RXBAR A.M. a line of clean-label breakfast bars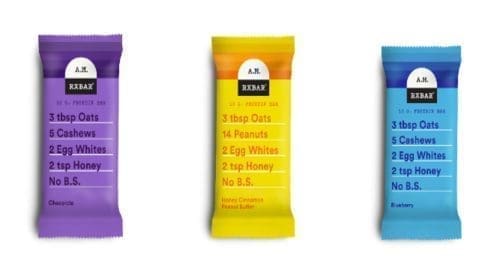 RXBAR A.M., is powered with protein and a few simple ingredients – such as soft-rolled oats, creamy nut butter, honey, egg whites, crispy brown rice and pumpkin seeds.
The 10g protein bars deliver on deliciousness, with full flavors and a soft and crispy texture made to satisfy morning cravings.
The line includes three flavors: Blueberry, Honey Cinnamon Peanut Butter and Chocolate, having between 12 and 14 grams of total sugars each.
RXBar A.M. first launched at Whole Foods and Target, and will expand to other retailers throughout the summer.
Krispy Kreme's fresh off the line limited edition berry doughnuts for the summer
Krispy Kreme Doughnuts is kicking off summer with its new "Pick of the Patch" collection – four all-new berry-inspired doughnuts, including the debut of the Mixed Berry Glazed Doughnut.
Krispy Kreme's Pick of the Patch collection features a freshly picked assortment of new doughnuts such as: Mixed Berry Cobbler, Blueberry Cheesecake, Strawberry Shortcake and Mixed Berry Glazed – a light & airy doughnut glazed with an all-new Mixed Berry Glaze.
Available beginning Monday, June 6 for a limited time at participating shops across the US, the Mixed Berry Cobbler, Blueberry Cheesecake and Strawberry Cheesecake doughnuts are available individually or in a Berry Lover's Dozen daily while supplies last.
The Mixed Berry Glaze doughnut can be purchased individually or by the dozen Fridays through Sundays only beginning Friday, June 10.
CLIF Kid's Zbar launches blueberry muffin flavor
Just in time for summer, CLIF is expanding its organic, whole-grain CLIF Kid product line with the new Zbar flavor Blueberry Muffin.
Each bar features 12 grams of whole grains derived from organic oats and organic wild blueberries. The product boasts organic ingredients, lack of high-fructose corn syrup, no artificial flavors and non-GMO products.
The new fruity flavor is available in American retail stores including, Target, Kroger, and Raley's for a suggested retail price of US$5.49 and can also be purchased online on CLIF's website or Amazon.com.
Fudge Kitchen has launched a limited-edition Chocolate Biscuit Cake fudge in celebration of the Queen's Platinum Jubilee
UK confectioners, Fudge Kitchen, launch a limited-edition Chocolate Biscuit Cake fudge in celebration of the Queen's Platinum Jubilee.
The Platinum Jubilee Chocolate Biscuit Cake flavor is made using a Dark Chocolate & Sea Salt fudge, swirled with crushed biscuit free of gluten and palm oil, in line with Fudge Kitchen's gluten free policy and sustainability missions.
The final touch is a dusting of edible platinum shimmer, giving a firm nod to the Platinum Jubilee with every slice.
The new limited-edition Chocolate Biscuit Cake fudge can be bought in store and online from Saturday 7th May while stocks last. A single 185g slab goes £5.50, a box of 4 for £17, a box of 6 for £22 or a 12-slice party box for £40.
2022 Sweets & Snacks Expo: Salty-sweet, smoky, and spicy newcomers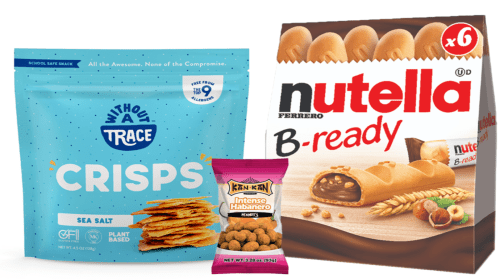 Caramel and salt are a popular combination for snack manufacturers this year, with several companies releasing snacks with those flavor combinations.
Second Nature Brands released its Sea Salt Caramel Crunch snack, which combines the company's dark chocolate caramels with a blend of nuts, including almonds cashews and pecans, as well as dried strawberries.
Pladis North America's Flipz brand debuted Flipz Clusterz, which combines chocolate clusters with salted pretzel pieces and caramel.
Prevail Jerky launched its Umami Beef Jerky at the show. The cherry-wood-smoked jerky is gluten-free, paleo-certified and contains no top-eight allergens.
Liked this article? Subscribe to Food Business Africa News, our regular email newsletters with the latest news insights from Africa and the World's food and agro-industry. SUBSCRIBE HERE.