GLOBAL— #Snack Tuesday this week features exciting new products from Mars, Oreo, Nightfood, Lenny & Larry's, and Blue Diamond, as well as a range of sweet and spicy flavors from Kellogg and Hormel Foods.
Mars partners Perfect Day for vegan chocolate
Mars has teamed up with US start-up Perfect Day to launch an animal-free dairy chocolate bar CO2COA.
The cocoa for the bar is sourced from Rainforest Alliance Certified farmers and Perfect Day supplies Mars with the animal-free whey it uses in CO2COA's debut vegan milk chocolate bar, a functional ingredient that gives it the same creaminess as its popular core products.
The US-based confectionery major and owner of the Snickers and M&M's brands said it is "leaning into the flexitarian dietary trends" with the launch, which starts immediately online in the US.
Oreo debuts Neapolitan flavor cookies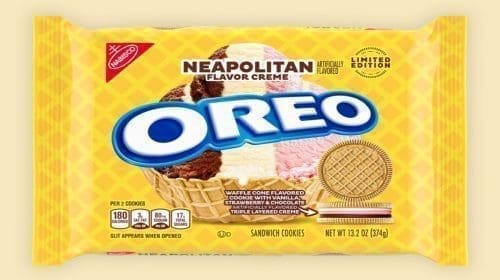 Oreo's latest creation is a dessert mashup perfect for ice cream lovers that stays true to the tradition of Neapolitan ice cream.
The cookie features an eye-catching triple layered strawberry, vanilla, and chocolate creme filling that mimics the quintessential pink, white, and brown-striped pattern that the ice cream is known for, stacked on top of each other in the middle of a waffle cone-flavored base cake.
The limited-edition triple layered flavor will be available at stores across the US starting this July.
Nightfood to launch pre-bedtime cookies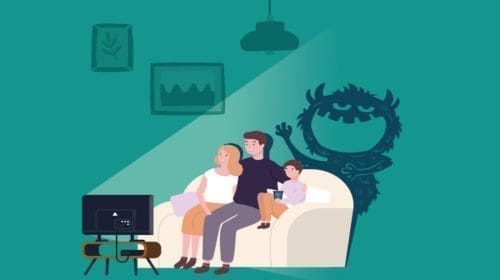 Nightfood has announced plans to launch Nightfood sleep-friendly cookies in July, containing fewer ingredients that could potentially disrupt sleep.
Each serving will also deliver 500mcg of vitamin B6, 500mg of inositol, and 250mg of jujube powder, along with other nutrients and ingredients selected to provide a more sleep-friendly nutritional profile for anybody snacking at night.
The cookies will be made with an oat flour base, date syrup as a sweetener, and be free of any gluten and nuts.
The first flavor launching for Nightfood's sleep-friendly cookies will be Prime-Time Chocolate Chip. Other flavors will follow and expand the product, including Cherry Oat and Snickerdoodle, expected between July and August.
Lenny & Larry's debut immunity bar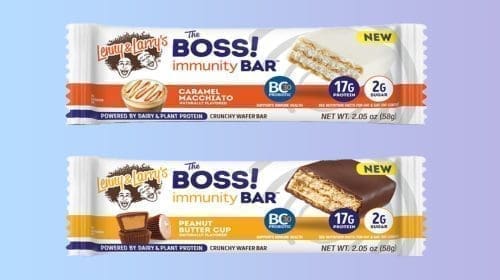 Protein bar and cookie company Lenny & Larry's is launching the BOSS! Immunity Bar in four original flavors: peanut butter cup, chocolate mint brownie, caramel macchiato and maple French toast.
The Boss Immunity Bar consists three crunchy wafer layers with creamy flavor in between, covered in milk or white chocolate.
Giving the bar its name, is an infusion of premium BC30 probiotics to improve gut health. Each serving contains 17 grams of protein, alongside 16 to 17g of carbohydrates with 4 to 5g of fiber and 2g sugar and no artificial sweeteners, flavors or GMO ingredients.
The BOSS! Immunity Bar is already available for purchase straight from Lenny and Larry's online store at US$24.99 for a box of 12.
Blue Diamond rolls out new flavored almonds
Blue Diamond, the world's leading almond marketer and processor has announced the addition of four new almond snacks flavors to its portfolio, including two flavored almonds and two flavor mashups.
Elote almonds and Korean barbecue almonds will be joining the company's flavored line. The elote-flavored almonds are topped with chili pepper, cheese and lime.
The Korean barbecue almonds are covered with the flavors of soy, garlic and gochujang. Both flavors are available in a 6-oz can for a suggested retail price of US$4.19.
The other two products are joining the company's new Mash Ups line, which combines two intense flavors into one multi-dimensional snack.
Blue Diamond Almonds Mash Ups Cinnamon and Maple Almonds offer a harmonious balance of sugar and spice and Blue Diamond Almonds Mash Ups Dark Chocolate and Chili Pepper Almonds pair the sweetness of dark chocolate with a subtle kick of chili pepper—creating a sweet and spicy flavor combo
Both Mashups are available in 14-oz bags for a suggested retail price of US$6.98. All four new products can be found at select Walmart locations around the nation, with further retail availability coming later.
Kellogg, Hormel Foods, hop on the sweet and spicy flavors trend
Product developers are pairing sweet and spicy flavors in new snacks and pantry staples.
Kellogg Co. is expanding its Pringles lineup with Pringles Wavy Chipotle Ranch crisps, which have a ridged texture and a flavor the company described as "smoky chipotle heat" meets "creamy, zesty ranch".
Hormel Foods Corp. is introducing Planters Sweet & Spicy Dry Roasted Peanuts, featuring honey and dried red chili peppers plus salt. 
New PLANTERS Sweet & Spicy Peanuts are available in a 16-ounce bottle at grocery stores across US at a suggested retail price range of US$3.25-$4.49.
Liked this article? Subscribe to Food Business Africa News, our regular email newsletters with the latest news insights from Africa and the World's food and agro-industry. SUBSCRIBE HERE.