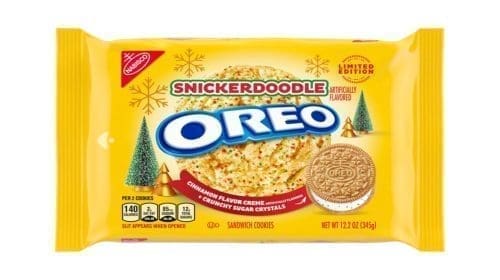 Nabisco, a division of Mondelez International, Inc., is launching a snickerdoodle flavored Oreo cookie for a limited time this fall and winter.
Made using snickerdoodle flavored Oreo biscuits, the interior of the classic cookie sandwich will be filled with cinnamon flavored crème blended with crunchy red and green sugar crystals.
The company initially announced the flavor through a social media strategy designed to engage Twitter users. When put together, the first words of the last eight Tweets from the Oreo account spelled out, "Our Next OREO Cookie Flavor Is Snickerdoodle."
Available nationwide Oct. 17, the LTO snickerdoodle Oreos will be on shelves as long as supplies last.
NadaMoo! launches dairy-free bites
Dairy-free dessert company NadaMoo! is expanding with Frozen Snack Bites, a small frozen dessert.
The dairy frozen bites are available in five flavors: salted caramel, mint, peanut butter, mango and orange crème.
The non-GMO and gluten-free certified dessert contains about 50 to 70 calories per serving and are available in 6-count bags for a suggested retail price of US$5.69.
Funny Face Bakery launches fall flavors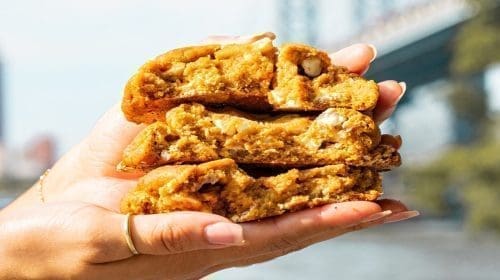 Funny Face Bakery, a pop culture bakery born and based in New York City, has released two new seasonal gooey cookie flavors just in time for fall. The bakery has brought back the fan-favorite Pumpkin Sugar N' Spice and has introduced a new nostalgic treat, Crispy-Mallow Crunch.
Crispy-Mallow Crunch combines a favorite nostalgic cereal treat with a cookie with a big spoonful of soft and chewy marshmallows. It's crunchy on the outside and chewy on the inside. Pumpkin Sugar N' Spice has sweet pumpkin taste and white chocolate chips, and is lightly dusted with cinnamon.
JM Smucker introduces new Uncrustables Meat and Cheese Bites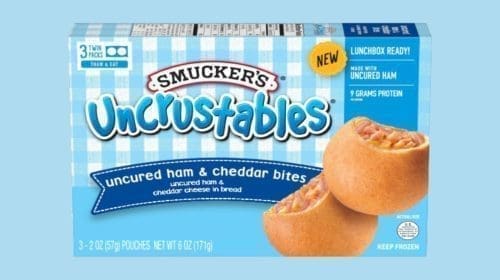 JM Smucker announced the release of its new product, Uncrustables Meat and Cheese Bites from its Smucker's Uncrustables brand. The new product can go straight from the freezer to the lunchbox and be ready to consume.
Known primarily for its frozen peanut butter and jelly sandwich, the latest product offerings are frozen bites filled with meat, cheese and soft bread.
New Smucker's Uncrustables Meat and Cheese Bites come in two varieties including Uncured Ham and Cheddar as well as Turkey & Colby Jack. Each product pack will be available in the US beginning early October.
Reese's releases Big Cup and Puffs Cereal collaborative snack
Reese's has announced its new product collaboration, Reese's Big Cup Stuffed with Reese's Puffs cereal, that combines Reese's peanut butter and chocolate with Puffs cereal.
This epic mashup of Reese's and Reese's will create a Reese's experience (and explosion of chocolate and peanut butter) unlike ever before. Reese's lovers' minds will be blown when they find out there's yet another way to fuel their Reese's fanaticism. Reese's has outdone itself.
The new Reese's Big Cups Stuffed with Reese's Puffs cereal will be available in the US in November.
Grenade launches new protein flapjack range
Mondelēz-owned brand Grenade has announced the launch of a new range of protein flapjacks in the UK.
Grenade's Protein Flapjack is available in three flavours: Oat'ally Blueberry, a blueberry-flavoured wholegrain oats and nut butters, dipped in white chocolate and topped with biscuit crumb; Caramel Overload, a caramel-flavoured wholegrain oats and nut butters, dipped in milk chocolate and topped with chocolate drops; and Chocolate Chunk, a chocolate-flavoured wholegrain oats and nut butters, also dipped in milk chocolate and topped with chocolate drops.
The vegetarian-friendly protein flapjacks contain 11g of protein and less than 1.4g of sugar. Each 45g bar is also packed with fibre, wholegrain oats and all-natural nut butters.
The range will be available to buy at select UK stores from this autumn for £1.50.
Frankford Candy and Pebbles launch cinnamon-flavoured candy bars
Frankford Candy has teamed up with Post Holdings-owned Cocoa Pebbles to launch a new cinnamon-flavoured candy bar in the US.
Cocoa Pebbles cinnamon milk chocolate candy bar features chocolate mixed with the brand's cereal and a hint of cinnamon sugar spice flavour.
The candy bar is available now at Walmart stores nationwide for an SRP of US$1.39.
Liked this article? Subscribe to Food Business Africa News, our regular email newsletters with the latest news insights from Africa and the World's food and agro-industry. SUBSCRIBE HERE.