#Snack Tuesday this week features exciting new products from Toufayan, Twix, Kooshy, Catalina Crunch, Utz, Outstanding Foods and CTRL.
Edible partners with TWIX on new line of treats
Edible and TWIX have recently announced a collaboration that features Edible releasing an extensive line of gifts and goodies made with TWIX Cookie Bars.
The new line will be available for a limited time and includes fruit bouquets, cakes, cookies, brownies, cheesecakes and more.
This is the first time that Edible has collaborated with another food brand to do a full product integration into the Edible line of products.
Kooshy launches crunchy cubes, a new line of Non-GMO croutons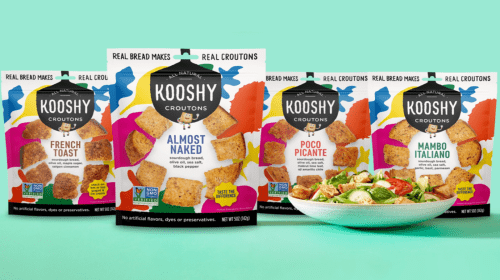 Kooshy, a new Chicago startup that aims to bring a premium, better-tasting croutons has launched a new line of croutons, crunchy cubes, formulated with organic sourdough, olive oil and spices.
The company claims its crunchy cubes are the first Non-GMO Project verified croutons on the market, and three of its offerings are vegan, noting many brands use cheese or butter.
Varieties include Almost Naked, which has salt and pepper; Mambo Italiano, seasoned with garlic, basil and parmesan; French Toast, featuring maple and Saigon cinnamon; and Poco Picante, with lime and aji amarillo chile.
Catalina Crunch adds new flavors to cookie line
Keto-friendly snack brand Catalina Crunch, owned by Catalina Snacks, Inc., is expanding its grab-and-go sandwich cookie line to include vanilla crème and chocolate vanilla flavors.
Both flavors come in a sleeve containing four cookies, which is equal to two servings. Each cookie is made up of two wafers sandwiched around a crème filling.
Made using a blend of pea protein and prebiotic fiber from plants, the cookies contain 4 grams of protein, 3 grams of fiber and 5 grams of net carbs per serving. Additionally, each cookie contains 1 gram of sugar. The grab-and-go cookies are available on the company's website and at select retailers nationwide.
Utz Brands launches limited-edition chip varieties for the summer
Utz Brands has launched two limited-edition chip varieties for the summer. The all-new Utz & Grillo's classic dill pickle flavor is a collaboration with Grillo's Pickles and is available in both a 2.6-oz on-the-go bag and larger 7.7-oz take-home bag.
Riffing off the Utz cheddar cheese balls, the company has introduced Utz Ripple potato chips coated with cheddar cheese ball flavor.
The cheddar cheese ripple chips are available in a 7.7-oz take-home bag and, along with the dill pickle flavor, are available for purchase on the company website for a limited time.
Toufayan launches keto breads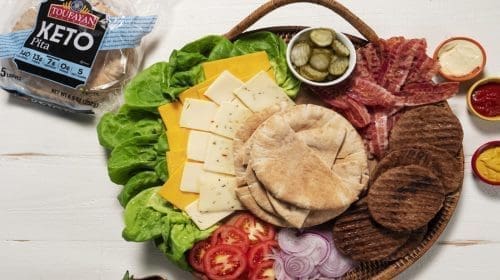 Toufayan Bakeries introduced its first line of keto breads that the company said is high in fiber and protein while being lower in carbohydrates than its traditional bread.
The new portfolio of products includes keto pita, wraps and flatbread. Keto pita and flatbread contain 7 grams of protein, 13 grams of fiber, 18 grams of carbohydrates and no sugar per serving, while keto wraps have 12 grams of fiber, 5 grams of protein and no sugar.
Toufayan Keto Pita, Wraps and Flatbreads are shipping to the deli section of stores across the US and are now also available on Amazon.
Outstanding Foods launches dairy-free cheese balls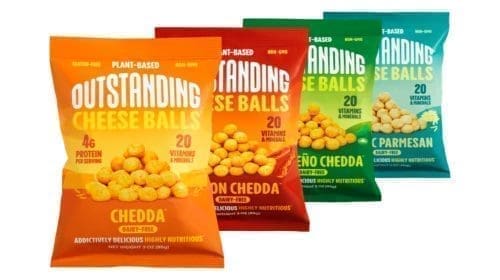 Outstanding Foods is launching Outstanding Cheese Balls, a line of plant-based puffs that are high in protein.
A serving has 4 grams of protein and 20 vitamins and minerals, including iron, zinc, B12, B6 and vitamins D, E and A. Varieties include cheddar, bacon cheddar, jalapeño cheddar and garlic parmesan.
The soy-free, trans fat-free, gluten-free and non-GMO puffs are available in full-size 3-oz bags retailing for US$4.49 and snack-size 1.25-oz bags retailing for US$2.49.
CTRL introduces new meal replacement bars
Meal replacement brand CTRL is launching a line of protein bars following its recent funding round. The new meal replacement bars are formulated with whey protein, cashew butter, and honey. Flavors include chocolate chip cookie dough and magic charms, a riff on Lucky Charms cereal.
The brand also offers powdered meal replacement shakes featuring indulgent flavor profiles such as cookies and cream, cinnamon toast, fruity flakes and birthday cake.
Liked this article? Subscribe to Food Business Africa News, our regular email newsletters with the latest news insights from Africa and the World's food and agro industry. SUBSCRIBE HERE